"Medallion" was full of twists that I felt coming... but I didn't know just how twisted they might get. Some fairly big knots were tied and it seems we will be dealing with the consequences of this episode for some time to come.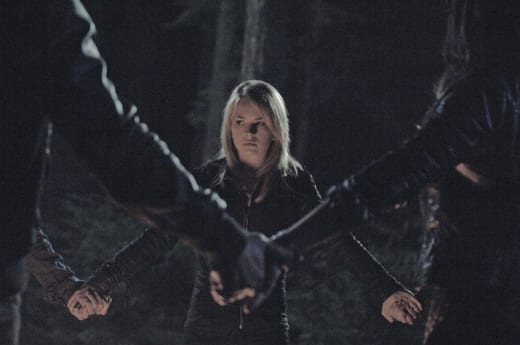 It was a cool twist that Cassie was seen in the boat yard 16 years ago. Apparently the memories of some of those who were there had been altered to remember her presence. The woman who came to Cassie was her dad's psychic, to protect him from witch hunters. A surprise revealed she betrayed her circle and Dawn was just waiting for her to come back for the last 16 years.
I've never seen someone on TV buy bananas as overripe as what Dawn pulled out of her shopping bag. She may have good witch skills, but the chick needs to learn to buy better produce! She was also getting unexplained slices down the middle of her hand. It turned out to be a "marking" on the psychic. The psychic marked Dawn, so to speak, and then the psychic had a final mark of her own.
I knew the psychic was off. She was too sweet, and then acted too frightened when Dawn confronted her. Nobody acts like that. Cassie was also too willing to listen to this woman despite of having no actual proof that anything she said was true. Cassie's as reckless as the adults, and they are borderline ridiculous.
No matter how much they try to convince us that there is something preordained in the cards for Cassie and Adam, I don't think Cassie is good enough for him. Diana's speech at Adam's birthday party was amazing. Cassie has known about being a witch for mere months. How can anyone give what she thinks credence just because her parents had dark magic?
Cassie's character isn't alluring or charming enough to be able to change a group of kids who have been friends since birth, lost their parents at the same time and have shared so much. Cassie is my biggest problem with The Secret Circle and until she becomes at least slightly sympathetic it's going to be hard to respect her.
Her realization that the psychic was stealing their powers and turning all bad ass at the end didn't feel right. Britt Robertson can't pull that off without making me want to laugh. Maybe that's part of the process. They have to make her unappealing and want us to fight against her in order to convince us to want to fight with her when it's really needed.
For now, I can't stop thinking she was a plain teenage girl until very recently, and she's not handling her new life very well. Her new friends had been on a pretty decent path prior to her arrival. Now they are falling apart. What do you think? Is Cassie a good addition to the circle and a good influence on them? Is she just a bad banana? What might the show have been like if it had taken longer for her to show up in town? I would have liked to more time with the original semi-circle before she arrived.
Check out the quotes and come back tomorrow for an updated section of The Secret Circle music in order to glean more fun information from "Medallion."
Carissa Pavlica is the managing editor and a staff writer and critic for TV Fanatic. She's a member of the Critic's Choice Association, enjoys mentoring writers, cats, and passionately discussing the nuances of television and film. Follow her on Twitter and email her here at TV Fanatic.