It's a sobfest as American Idol kicks off tonight. The footage shows that the contestants who remain are incredibly sad about last week's loss of Shannon Magrane. But as the opening song says, "and so it goes."
Tonight the Top 10 will be performing numbers from the songbook of Billy Joel. Sean "Puffy" Combs Puff Daddy P. Diddy Diddy will be the guest mentor and Tommy Hilfiger will be styling the contestants. Sort of.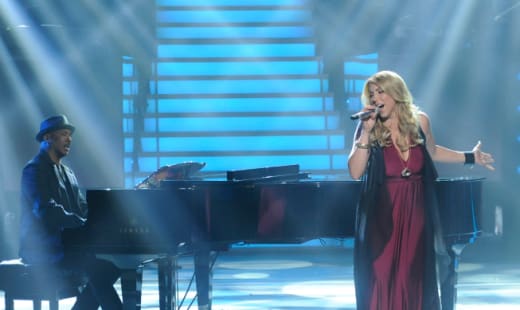 Deandre Brackensick is going first tonight. Tommy Hilfiger tells DeAndre to take his hair down and says that pulling it back is a waste of his hair. I say that only to say that I vehemently disagree, Tommy. VEHEMENTLY. DeAndre goes into his meeting with Jimmy and Diddy and I honestly have no idea what advice they just gave him. DeAndre sings "Only the Good Die Young." With plenty of head bopping and hair bouncing. I think he can't breathe or something because his phrasing seems off, and once again, he only enunciates about half of his words. Steven and J.Lo say it was a good way to start the show. Randy says he wasn't jumping up and down, but it was okay. Randy is the voice of reason. 2/5
Singing "New York State of Mind," Erika Van Pelt goes second tonight. Diddy tells her to hold back a little bit in order to pay respect to the song. Then he tells her to take some risks. Again with the confusing comments from the mentors. Tommy's style advice? Get a hair cut. So she gets a super short one that ages her about 10 years. She sang the song really well, though it seemed like she was a little disconnected from the supposed meaning of the song. Maybe even arrogant. Randy and J.Lo said it was a beautiful vocal but she held back too much at the end. J.Lo said she needs to put a little more movement and connection into her performances. Vocally? Great. Emotionally? She's not there yet. 3.5/5
Joshua Ledet is singing "She's Got A Way." Diddy says he doesn't have to get so rough with the song, and Joshua says he feels like he doesn't really connect to it because this isn't his genre. But he sings it anyway. He maintains control throughout and shows his vocal range by dipping into his bottom register at parts and ending with just a touch of his falsetto. He even manages to bring some of his usual soul into the song with the help of a small group of back-up singers. But it's kind of sleepy overall. J.Lo says she feels stupid to say anything negative to Joshua, but feels like he didn't connect with the lyrics. Steven says it was great. Randy says he agrees with both of them. 3.5/5
Skylar Laine, tapping into her country roots, chooses "Shameless." Diddy tells her it feels forced. Skylar starts a little lower than she's used to but gives the best, most authentic performance of the night so far. She picked a song she knew and loved and showed, once again, that she's our country girl this season. Randy says she was pitchy in the beginning. And he also forgot that Garth Brooks had even done this song before. Based on that alone, I say we ignore Randy's comments. Except Steven said the same thing--that she was pitchy in the beginning. Maybe I need to listen again. 4/5
Hoping to keep herself out of the bottom three this week, Elise Testone chooses "Vienna." Which apparently only the most die-hard of Billy Joel fans will know. Jimmy says he's scared for her singing this song but Diddy helps her find a way to connect to the song, and thereby the audience. Elise's performance outdoes Skylar's by a landslide. She understands phrasing and dramatic musical pauses and even though she does really distracting things with her hands, she's got the judges on their feet and parts of the audience in tears. Steven loves it. J.Lo says she feels like this was the first time people saw Elise's personality in her song. Randy says this was Elise's moment. I say if she's in the bottom three again this week, America and I need to have a chat. 5/5
Phillip Phillips takes on "Moving Out." Diddy tells him to drop the guitar and stop using it as a shield and "groove" when he sings. Tommy says gray's the worst color anyone could ever wear on stage. Diddy? Tommy? A little advice for you--if it ain't broke, don't fix it. And Phillip Phillips is not broken. He's on stage with his guitar, wearing gray, and being awesome. The rhythm and vibe of this song dictates that WITH the guitar is a better choice than without. Phillip isn't just a singer. He's also a talented and capable musician and deserves to showcase all of his talents. He brings an angry edge to the end of the song. J.Lo says it comes down to being who you are when you perform and calls the performance awesome. Randy and Steven agree and all of the judges are glad Phillip did his own thing. So am I. 5/5
Hollie Cavanagh asks Tommy to put her in sparkly things. How very girlish of her, right? He puts her in an outfit I feel like Madonna has worn before. Hollie has chosen to sing "Honesty." Diddy and Jimmy spend time explaining the song to her so she "gets" it. But I don't think she does. This isn't Hollie's best performance. First, it's slow and ballady. Again. Second, she hits a few rough patches and has trouble recovering from them. Steven says she's pitchy. J.Lo compliments her for choosing to take on the big songs, but says that it seems like Hollie didn't really know the song. Randy says he could almost feel her thinking about what she was doing instead of just doing it. 2/5
During his meeting with with Jimmy and Diddy, Heejun Han asks for advice on how to handle all the negative criticism. While wearing a shirt that says "Heejun we love you." Diddy says he can't quite figure Heejun out and wonders if he's a con-man. Then Tommy asks Heejun whose style most inspires him. Tommy is clearly annoyed with Heejun's answers. (co-contestant Jessica Sanchez, Madonna, Michael Bolton.) It's kind of funny actually. It's at this point that I realize they haven't said what song Heejun's singing tonight. And that's because he pulls a fake out. The piano starts slow, with Heejun in a suit and it seems like Heejun forgets his lyrics. Until he rips off his jacket and tells the piano man to speed it up. He's singing "My Life." No--he's PERFORMING "My Life." Yay for NOT a ballad!
He's all over the stage and interacting with the crowd and having fun. Finally. J.Lo calls his performance a "breath of fresh air" in a night of ballads, but says since he was running around he didn't hit all the notes. Steven calls him He-man and then has an unintelligible conversation with maybe himself before finally telling Heejun that "the music business will kick your ass" and that he'll need to take it a little more seriously at some point. Randy says that vocally it wasn't perfect, but he was glad to see Heejun have fun. I'm giving Heejun bonus points this week for being one of the only contestants to have a personality. 4/5
And with Jessica Sanchez, we're back to the big ballads. She's singing "Everybody Has A Dream." Diddy says he doesn't believe her. That she oversings the song and throws too many tricks and runs and vibrato into her performance. That she needs to just simplify what she's doing. I want to give Diddy a high five right now because his advice is perfection. Jessica, backed by a chorus, gives the best performance she's given thus far on Idol. (Yes, even better than her Celine Whitney number.) Steven says she was at the front of the line when God gave out vocal cords. J.Lo says that song was written for her. Randy says she's consistent and that's what will help her win. 5/5
Colton Dixon closes the night with "Piano Man." As the only guy in the competition who plays the piano, this song is pretty perfect for him. Diddy said his practice was so good he wanted to buy the record. After hearing the opening notes of the live performance, so did I. He took a song that is so well known and played it so perfectly that it was as if he were the original artist. As if this were the very first time the song had ever been sung. J.Lo had "goosies." Steven said his voice was stunning. Randy said he gave a "sensitive, touching, moving" performance on a song that is so iconic. This is Colton's night to lose. 5/5
The top performances of the night for me go to Colton Dixon, Jessica Sanchez, Phillip Phillips, and Elise Testone. Colton, Jessica, and Elise all gave outstanding vocal performances. Phillip earned points with me for staying true to himself despite the criticism of the mentors. Another thing that helps Colton and Elise is that they're older contestants (relatively speaking) and know who they are as people and who they want to be as performers.
I think Hollie Cavanagh, DeAndre Brackensick, and Erika Van Pelt could find themselves in trouble tomorrow night. Hollie's aging herself with her song choices. She has yet to attempt an up-tempo number. DeAndre is kind of spastic and it certainly doesn't do him any favors to have gone first. Erika's drastic hair cut and color smacks of insecurity. And she went second. By the time we reached the end of the two hour show I'd forgotten about her completely.
Who was your top performance of the night? Who do you think will be going home tomorrow?
Miranda Wicker is a Staff Writer for TV Fanatic. Follow her on Twitter.