Last week, we watched as the American Idol contestants took on songs from the Billy Joel songbook. This week, the Top 9 tackle the songs of their idols, which includes a range of songs from Lifehouse to Led Zeppelin.
Ryan issues the proclamation to start: "May the odds be ever in your favor," and suddenly I'm imagining the contestants going at it Capitol-style, which is way more interesting than tonight's show turned out to be. In the dome, as on the stage, my money would still be on Phillip Phillips since he's a country boy. And country boys can survive, right?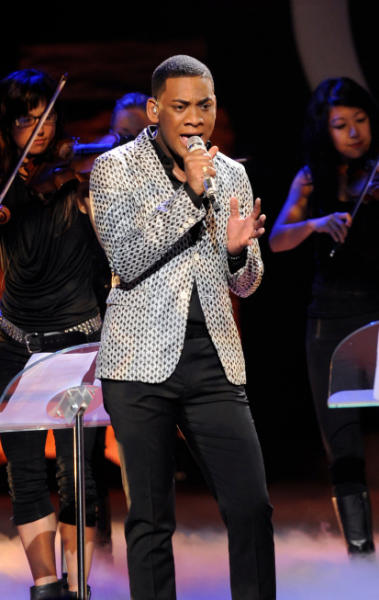 Colton Dixon is up first singing one of my favorite Lifehouse songs--"Everything." Stevie Nicks says this song "goes into the heart of woman." As much as I'm a Colton fan, and as much as I truly love this song, this wasn't my favorite performance of his. It was kind of sleepy and I kept waiting for the big moment to come, but it never did for me. Steven said it was great. J.Lo said it was emotional. Randy said Colton has "believability." And then Colton cried because of how much he loves the song and I feel bad for calling it sleepy. But it was. 2/5

Skylar Laine has chosen Miranda Lambert's "Gunpowder and Lead." Stevie Nicks grabbed a microphone and harmonized with Skylar on the chorus which probably made Skylar's entire life. Skylar started the song through her nose and didn't enunciate some of her words, which bugs me. However, she's always entertaining. Skylar doesn't do slow songs which I appreciate immensely. This sets her apart from the other girls her age in the competition and is a smart move. J.Lo gave Skylar props for her unbridled energy. Steven called it beautiful, which is his favorite adjective lately. Randy called her a powerhouse singer. Among the young females in the competition, Skylar's my favorite at the moment. 4/5

Colton, Elise, and Phillip perform a mash-up of "Landslide," "Edge of Seventeen," and "Don't Stop" in tribute to Stevie Nicks and Fleetwood Mac. This is what Idol's come up with to fill the two-hour slot. Trios. Colton and Elise seem completely comfortable. Phillip, not so much. It's clear that group numbers aren't his bag. He makes the most of it on "Don't Stop," but, yeah. The tour's going to be hard for him.

Heejun Han is singing Donny Hathaway's "A Song For You" after being called out last week for not taking the competition seriously. Jimmy reminds him that showing his vulnerability is a good thing. While I like Heejun cracking wise, I also like him being more straight-faced and serious. The guy really does have a great tone to his voice and chose a song that allowed him to showcase his abilities. However, it put me to sleep. Steven said Heejun made the song come alive. J.Lo said contestants don't make it this far by mistake. That there's a reason he's here. Randy said this performance reminded them why Heejun's in this competition. It was good. Better than last week, that's for sure. But America is a fickle beast and there's very little he can do at this point to save himself. 2/5
Stevie counsels Hollie Cavanagh to really feel the lyrics to Carrie Underwood's "Jesus Take the Wheel" and to share her emotions with the audience. There's no doubt that Hollie has the chops for this song. Vocally, it was better than last week, but I'm not sure she really connected with the song and the audience. Randy said it's dangerous taking on the song of a former Idol (YES!) and that she had a few pitch problems. (This is the first negative comment ANY of the judges has uttered all night long.) J.Lo disagreed with Randy and said that this was one of Hollie's best performances yet. Steven said he wishes she'd picked a different song. I agree with Steven--she should've picked a different song. Something with a pulse. 3/5
DeAndre Brackensick is singing "Sometimes I Cry." Oof, DeAndre. Sometimes I do, too. Namely when you sing falsetto because my ears bleed. Stevie's advice is to slow the song down. Which means we're dragging out the length of time we have to hear his falsetto. The judges gave him a standing ovation. I almost fast-forwarded through the performance to avoid the screeching and lack of enunciation. Steven said it was passionate. J.Lo said DeAndre has something people don't hear every day. (Uhhh, for good reason, J.Lo.) Randy said DeAndre's back! DeAndre said he's been trying to show different sides of himself, but this is who he is. There's nothing wrong with occasional falsetto, but when an entire song is sung in falsetto, or nearly an entire song, falsetto becomes a bad thing. For me at least. And I'm hoping for the rest of mainstream America, too. 2/5
In non-shocking Diva news, Jessica Sanchez has chosen Beyonce's "Sweet Dreams." Beyonce has been Jessica's idol since Jessica was 7. Stevie loves that Jessica slowed the song down and made it into a ballad. Jessica did some runs on the low notes at the end of the word "nightmare" that were...weird. I also think she had a couple of pitchy moments in some of the big notes toward the end, but none of the judges seem to notice or care. And the going through the door on the stage at the end of her performance thing was strange. I did, however, really like the slow version of the song. J.Lo said Jessica did Beyonce proud. Steven called her performance "delicious." Randy said she has innate talent. Hello, Captain Obvious. Yes, Jessica's talented. Sure, this was a good performance. Despite the odd notes, Jessica has had the most vocally strong performance of the night thus far. 4/5
DeAndre, Joshua, and Heejun sing a Michael Jackson medley of "The Lady in My Life," "Rock With You," and "Pretty Young Thing." If there's one thing I know, it's that I like DeAndre WAY more when he is NOT singing falsetto. J.Lo said they should be glad, however, that they weren't here for So You Think You Can Dance. Poor guys. All with two left feet.
Phillip Phillips was paid the biggest compliment of the night when Stevie Nicks said that, had Phillip been around in 1975, he would've been asked to join Fleetwood Mac. He's singing "Still Rainin'" by Jonny Lang. The thing I love about Phillip is that he is completely confident in who he is and consistently chooses songs that suit his style and personality no matter what anyone else thinks. This one is no different. My only fear is that he's going to give himself an aneurysm. Or some crazy crow's feet. J.Lo called his performance amazing. Randy said he loves the artist that Phillip is. So do I. He completely killed the song and his competition. 5/5
Joshua Ledet's idol? Mariah Carey. He's singing "Without You." Stevie and Jimmy seem to think it's an odd choice. I have to admit that I do, too. Sure, it was originally performed by Harry Nilsson, but Joshua has specifically chosen Mariah's version. The same rules apply to both girls and guys who choose Diva songs. You better do it all the way. Joshua has a habit of screaming some of his words, and that's starting to grate on my nerves. (By "screaming" I mean I'm not sure what word he's even saying.) Joshua choked up toward the end and almost started crying. Randy said Joshua's performance was flawless and emotional. Steven said Joshua pushed himself beyond his own limits. J.Lo called him a "phenom." I'm conflicted. It wasn't a terrible performance. Aside from the screaming, I actually liked it better than I thought I would. But there's something about Joshua's body language that says he's not all-in. America is going to pick up on that if he's not careful. 4/5
Jessica, Skylar, and Hollie sing Madonna's "Like A Prayer," "Borderline," and "Express Yourself." And what do you know? Hollie can sing up-tempo songs!! Crazy, right? I liked her tiny snippet of a performance here better than her actual performance tonight. She showed personality and pop.
Singing "Whole Lotta Love" by Led Zeppelin, Elise Testone closes out the night. Stevie says Elise made Robert Plant proud and then called Elise a kindred spirit. (Is Stevie the nicest mentor ever, or what?) Elise turns into a rocker chick on this song and shows that she is miles ahead of the other girls in this competition in terms of vocal maturity, stage presence, and performing ability. Being the oldest girl in the competition (maybe even the oldest contestant now) can work in her favor if she continues to give performances like this one. Steven said he wasn't sure she was going to pull that off, but she did. J.Lo said it was crazy! Randy said she did an amazing job. I think she just gave Phillip Phillips a run for his money. 5/5
The judges handed out five standing ovations tonight. They certainly had a whole lot of love for these contestants, as evidenced by their lack of negative comments or truly constructive criticism. It kind of felt like we were back in the Top 24 rounds for a minute.
In what was otherwise kind of a snoozefest, Elise Testone and Phillip Phillips are sitting pretty atop Idol mountain. Skylar Laine, Jessica Sanchez, and Joshua Ledet are near the top of that mountain, too.
Way, way down in the valley? Heejun Han. He'll definitely be in the bottom three this week and will probably be the contestant to leave. I think Hollie Cavanagh and DeAndre Brackensick could be keeping him company. As a wild card for the bottom three, Colton Dixon could be hurt by the fact that he performed first and that it wasn't his best.
How did you rank tonight's performances? Do you think this is definitely the end of the line for Heejun? Were the judges too kind? Tell us in the comments and then come back tomorrow night where we'll review the results show.
Miranda Wicker is a Staff Writer for TV Fanatic. Follow her on Twitter.