Are you ready for the "last normal episode before the stormy weather hits," Castle fans?
That's how series creator Andrew Marlowe introduced the March 19 installment, "A Dance with Death," prior to screening it for all of us in attendance at the show's PaleyFest panel.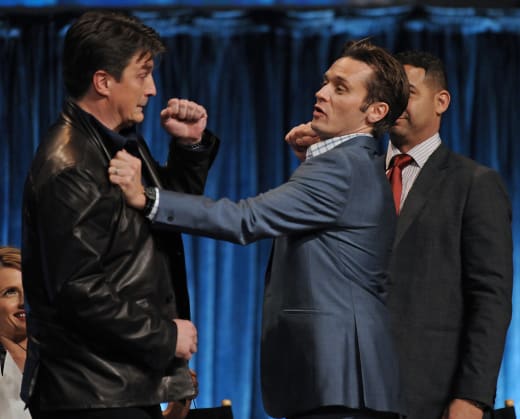 What can viewers expect from the episode, which focuses on the death of a reality show contestant? An admission by Beckett and some strippers, for starters.
But the theme of the evening, as you might expect, was Beckett and Castle and when the heck Caskett would actually come to fruition. Isn't it time for these two to get together?
"Yes!" exclaimed Stana Katic, as the crowd cheered, while Nathan Fillion painted his own picture of how he hopes these two will consummate their relationship, saying: 
"I think it's played out very well - it's been tastefully and artfully dealt with - but I don't think it's something that can be done forever. Andrew has shared his plan, and it's deft... it should be really clumsy, with stuff getting knocked over."
The panel included Fillion, Katic, Tamala Jones (who performed her track from "The Blue Butterfly"), Marlowe, Molly Quinn, Susan Sullivan, Seamus Dever, Jon Huertas and Penny Johnson Jerald.
Aside from the inevitable Castle and Beckett hookup, the night's other hot topic revolved around the bombshell dropped on Castle by Sophia, prior to that traitor's death: was his father really associated with the CIA?!?
"Castle doesn't know if he can trust what Sophia says. And, if you're father is in the CIA, how do you find out?" Marlowe asked, while assuring us the arc "is something we'll be exploring forward in the series."
In conclusion, Marlowe referred to season four as the "season of secrets" - from those three words Beckett pretends she didn't hear to Castle's silence over her mother's murder - an offered the following tease: "As we get into his last run, those secrets will start to come up, and [everyone] will have to deal with the consequences."
NOTE: Return to TV Fanatic tomorrow for our red carpet interviews with Fillion, Huertas and more!
Matt Richenthal is the Editor in Chief of TV Fanatic. Follow him on Twitter and on Google+.