There are a handful of things that Castle does well. Even better, there are a few things that Castle does REALLY well. After watching "The Blue Butterfly", we can now add nostalgia and flashbacks to the latter list.
When there is a series such as this - which sets the bar high with continuous entertaining hours of comedy, drama and romance - it is hard to have an episode exceed those expectations. It's been done before, with the 3XK tales and season finales, but this hour was different. It didn't have your heart thumping, nor were you sitting on the edge of the couch - but it didn't need any of that. What it did have was solid writing on a case perfect for Rick Castle.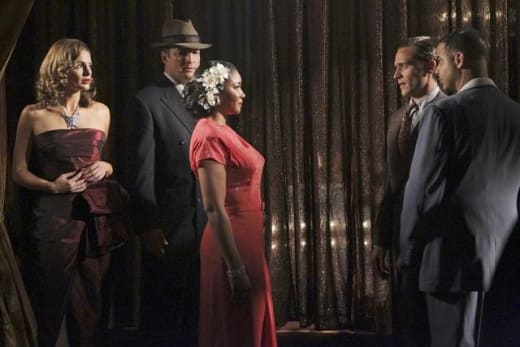 Let's just start by saying that Nathan Fillion is one of a kind. Fans have seem him in pretty much every type of character Hollywood has to offer, and he nails them all.
Episodes told through flashbacks are pretty difficult, but this was an exception. Castle imagining the characters as his friends and family was great. I mean, who hasn't done that at least once before when they read themselves? Anyone? Anyone?
The Case. The hunt for the Blue Butterfly necklace was just as, if not more, interesting that the search for the murderer. I honestly wasn't sure who the killer was going to be and I was a bit let down that it was a background player with such a small amount of screen time.
The Runaways Live! The best part about this case was that Vera and the PI lived happily ever after. I guess I'm not the only sucker for love, especially when it withstands decades (cough...cough...Beckett). Our favorite detective is much more soft than when this series started.
The Man Who Doesn't Age. Mark Pellegrino guest starred as mob boss Tom Dempsey/Tom Dempsey III. He has been popping up all over the place as of late, and I know I am not alone in loving it.
Got to hand it to the writers for the small and clever details they put in this installment. Pellegrino played both the grandfather and grandson, and as Castle put it, he was a doppleganger for the g-pop. They could have had someone else play the younger version, but it was MP that took on the task. I'd like to think of it that he played both roles because he is Jacob, the ageless guardian of the Island. Oh, Lost, I miss you terribly. Anyways...
Side Notes
Okay, Tamala Jones! The girl can sing and work a gown like it is her job.
How awesome was Castle trying to get Ryan to talk with the accent. "Say Boyle. Boyle. Boyle. Boyle. Boyle. Boyle. Like a leprechaun!"
Caskett shippers got to experience Beckett and Castle as a couple through the flashbacks. Even in the 1940s, these two had undeniable chemistry. Having the couple grow old together has to be a promise to us fans rooting for the pairing, right? Even if not, we still got a kiss and an I love you out of it.
Who wants to join me at the Penny Baker Club?
The first part of Castle's annual two-parter airs next week, bringing Jennifer Beals on board!