Congratulations, Subway. You have made up for relentlessly jamming your "$5 Footlong" jingle inside my head. And it was all thanks to the "Digital Exploration of Interior Design."
A Community episode that insulted Mitt Romney, all men named Kim and whoever the heck owns the world's longest fingernails, this installment all came back to Subway. The sandwich chain. Not the handicapped pet-adoring student parading around as a corporate entity.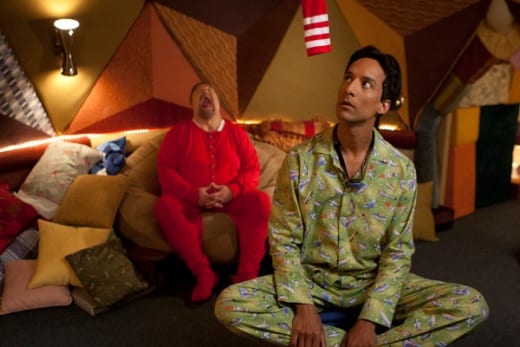 Taking product placement to a new, absurd, hilarious level, Community played off Romney's famous remark at a campaign event last year that "corporations are people." But it did in a Community-esque way, overt yet subtle, taking no direct political stance, just extending that statement to its illogical conclusion.
And letting Britta work some of her whoresmanship along the way. Sorry, it's the 21st century: whoreswomanship.
As usual, Britta's outrage was little match for reality this week, only this time the reality featured blue eyes, a love for George Orwell and an openness to do things that make former Bay Area residents unable to arise from their seats for a few minutes... if you know what we mean! (Which Dean Pelton clearly does not.)
This was easily my favorite storyline of the three arcs featured. Pierce - the study group member most often on the periphery - has rarely been better, believing he was the head of a legitimate undercover operation (You're a weapon designed for sex!), willing to go to any length to achieve success, ink-filled pens be damned.
The Jeff/Annie/Kim plot wasn't anything special, though it is refreshing to be reminded the show hasn't forgotten about Jeff making out with Annie, even if he has. There were still moments to remember here, of course, from Jeff not noticing Annie sneezed to Annie's indignation that a guy could dare usurp the sort of petty complaining reserved for the fairer sex.
Finally, we get to Troy and Abed... in the mourning? Are we seeing the demise of TV Fanatic's Most Dynamic Duo? Of course not. But I do give Dan Harmon and company credit for actually evolving this friendship. It would have been easy (and hysterical) to maintain the status quo, just featuring this pair each week in its alternate realities of fort-building and Inspector Space-timing.
Instead, however, all three of the episodes since Community's return have given us different looks at Troy and Abed's dynamic, mostly from Troy's point of view, mostly in terms of him realizing the one-sided, unusual nature of their bond. And, yes, it accomplished that here in the course of a contest between competing forts. Only on Community.
I must now be going to help save Garrett, but I leave you with a link to our Community quotes section and also with a very difficult decision: Choose a team in this feud...
Matt Richenthal is the Editor in Chief of TV Fanatic. Follow him on Twitter and on Google+.