Pardon me while I dry my eyes and put away the tissues so that we can discuss tonight's absolutely incredible Desperate Housewives.
Last week ended with a bang when Mike Delfino took a bullet to the chest and bled out in the arms of his wife. Tonight's installment therefore paid tribute to the neighbor, friend, father and husband we all loved and will always remember as simply an all-around good guy.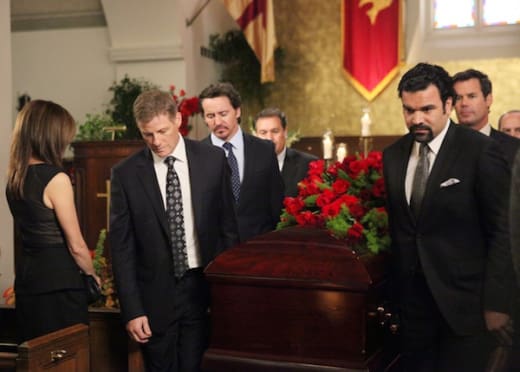 I'm sure that I won't be the first to admit this, but I was still upset that Mike was the unfortunate resident we had to see go. With only a handful of episodes remaining in the final season, I questioned all week long why it had to be him because I wanted to see Susan and Mike get the happy ending they so rightfully deserved. He was my favorite husband on the show, and I found myself still wondering why the writers chose this path when so many other routes could have been explored.
However, like Susan, I've now come to terms with what's happened and all I have to say is: Damn, I'm going to miss Mike.
"Women and Death" was written perfectly, with a stroll down Wisteria Lane, focusing on flashbacks and memories of how the tragic hero impacted all of the women's lives. It honestly was a beautiful episode honoring James Denton's Mike.
Nothing but praise to Terri Hatcher for making me cry uncontrollable tears. She did a phenomenal job and her emotions felt so raw and meaningful. One has to wonder if those tears weren't solely for the purpose of acting, but were in fact real, because she was also saying goodbye to a colleague after eight years. Either way, Mike's tragic death will certainly go down in Desperate Housewives history.
While Renee felt remorseful and guilty about what happened, I actually wanted to see Ben apologetic for Mike's fate. Then again, Bree was right in telling Renee that the day was about honoring Mike and not anything else. By the way, Vanessa Williams gave one heck of a performance singing "Amazing Grace" during Mike's funeral.
I truly appreciated the flashbacks throughout the installment, as each one was special in its own way. From Gaby realizing Carlos should do what makes him happy, to Lynette deciding that she should fight for Tom, Mike's death played a vital role in reminding these women, and even us, how short life really is. This is precisely why I have always loved dramas such as Desperate Housewives. Sure, the majority of the stories are overly dramatic and not all too relatable, but there are always moments and lessons, such as this one about death, that have an underlying message that often hits close to home.
Perhaps the best memories of the night, though, were of Susan's wedding night. I started to get especially teary-eyed when Mike recited the only poem he ever knew, during the diner scene with MJ, but mostly while Susan struggled with her eulogy as she said her goodbyes and softly repeated the words he once said to her: I love you once. I love you twice. I love you more than beans and rice.
Then, I completely lost it when Susan, who was surrounded by all of her friends, broke down and realized just how different things would be without the love of her life by her side. Thank goodness for pals, though, as each one was quick to support her and let her know that they would be there for her under any given circumstances. It was a truly heartbreaking and touching scene.  
Elsewhere: I couldn't believe that Bree got played for the oldest trick in the book by the police with her taking a sip of coffee and leaving her prints all over that mug. I mean, seriously?! That was beyond predictable, and I knew the police would run her prints and find a match with the prints found on Alejandro's body. Bree should have known better.
I will admit, though, that I didn't expect for the police to want to hold off on arresting Bree simply because they wanted even more evidence to put her away for good. On another note, if the police found Bree's prints on Alejandro's body, you'd think they'd also find several other fingerprints as well. There's no telling now what else they'll find out and what will happen next as the dark secret of that once unforgettable night comes to light.
So, what did you think TV Fanatics? How many boxes of Kleenex did you go through? Who was your favorite guest star in tonight's heart-wrenching episode? What will the police find out next in Alejandro's murder?