As Irishmen and "the help" filled out the Van der Woodsen-Humphrey loft to grieve for the Rhodes matriarch, our favorite Upper East Side women were playing the part - in classic mourning attire.
While CeCe was definitely enigmatic as a character, so were her funeral arrangements. In keeping with the odd turn of events, the Rhodes ladies had nothing but horrific things to say to each other while bewildered men looked on.
Thankfully, this event ended before it got really crazy, but not before Georgina made her mark. With five weeks of silence ahead of us, we're wondering, will the real Gossip Girl please stand up upon the show's return?
We hope so and in style. XOXO.
Poor Serena. A lost lonely boy, a fake cousin, a beloved grandmother gone, and now she has to share her dad with her cousin. Huh? We're lost, too. Too bad Eric isn't there (or supposed best friend Blair) to lighten her load... and her heart. Another trench (!) and an appropriate, yet casual skirt for a wake make up S' outfit this week.
Actual Skirt: Derek Lam Print Skirt
Steal Skirt: DV by Dolce Vitta Dianna Fair Isle Skirt
Actual Trench: Fay Elbow Patch Coat
Steal Trench: SMYTHE Wrap Coat
Perhaps the only genuine person on the Upper East Side these days, well except for new Chuck, Ivy looked actually like she was grieving ... shocker. A somber yet pretty sexy lace shift dress was enough to say sad, but fierce, especially when giving the Van der Humphreys the boot out of their own apartment.
Actual Dress: Milly 'Celia' Chantilly Lace Dress
Steal Dress: Velvet Cass Long Sleeve Dress

As the debate forges on over which –AIR is better, we'll just keep mum before we give ourselves a headache. Blair, deeply departed from her former self, looks pretty fantastic in this lace number. As her marital situation is totally on the rocks, her fashion sense seems to be returning - no more fascinators!
Actual Blouse: Jason Wu Blouse with Lace Overlay
Steal Blouse: Funktional Betty Lace Blouse
Actual Skirt: Zac Posen Flounched Charmeuse Skirt
Steal Skirt: Alice+Olivia Kimber Asymmetrical Drape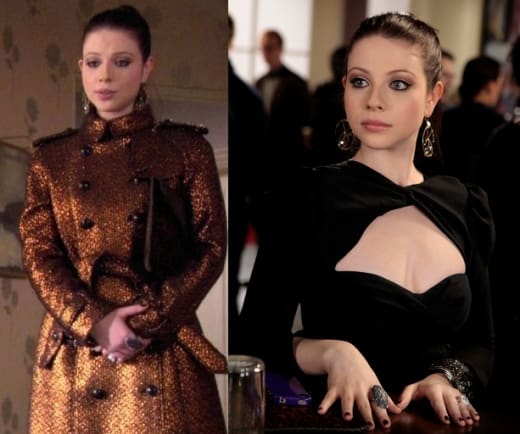 As we bid adieu to Georgie as Gossip Girl and as she leaves to gather intel in Monaco, we must admit her get-up this week and weeks past has been on point with her conniving, no-nonense mission to bring everyone down. Sleek and black, with a hint of sex appeal, it's not only perfect scheming attire, but fashion forward as well.
Actual Trench: Burberry Metallic Trench Coat
Steal Trench: Madewell Harrison Trench Coat
Actual Dress: Carven Cut-Out Long Sleeve Dress
Steal Dress: Blue Life V Ladder Dress

Though we love, love, love Lily, we were a little disappointed over her actions at her mother's wake. It's a time for mourning, not fighting ... so why the drama? The simple lace number paired with an over-the-top necklace made for suitable hosting attire; it's too bad she got kicked out after the festivities were over. What would CeCe say?
Actual Dress: Dolce & Gabbana Lace Thread Dress
Steal Dress: BACKSTAGE 5am Dress
Actual Necklace: Badgley Mischka for Sequin Chandelier Necklace
Steal Necklace: Gemma Redux Rock Crystal Necklace