After what seems like a lifetime, Grey's Anatomy returned with "One Step Too Far," an episode that proved this series can still bring the drama with the best of them.
The hour focused on pushing boundaries but knowing when you crossed the line.
The staff flirted with each other, Catherine Avery used another doctor as a spy on her son, Mark pushed Jackson to find fun; and most of these are innocent enough. But occasionally, they went too far.
Such as Owen dropping the bombshell on his suspecting wife. Let's discuss.
Uncle Phil! James Avery guest starred as a grieving husband and reminded us why his time on Fresh Prince of Bel Air was so enjoyable. The man can make you feel! Rebecca Hazelwood brought the sexy as Catherine Avery's co-worker, and Summer Glau returned as Nurse Emily.
All three guests were pretty much awesome. Speaking of Nurse Emily...
Can You Stop Screwing My Husband? Cristina was sure Owen was cheating on her with Emily. Most of us fans were positive that if Owen had strayed, it was with this girl, causing us to instantly hate her.
As soon as Emily admitted to flirting with Owen but promising she had never gone there, a little bit of disdain lifted. This is a well-written character and I don't think I am alone in wanting her to stick around a while.
Then the bomb got dropped. Owen is a cheater! The Chief admitted to straying from his marriage, making our hate for Emily pass right on to him.
Introducing Emily caused us all to believe she was the other woman, but turns out there is someone else. Well played, Shonda, you definitely threw us off the trail.
These two have had some serious ups and downs and there isn't really an easy way of fixing a broken marriage.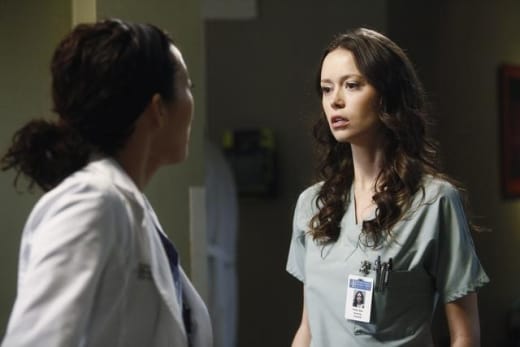 Oh, Smashed Up Face? That was bad. The lightest moment from the episode came from our originals talking over lunch. These moments are too far and few between, much like the great scenes between Bailey and Richard.
Cristina calling Rebecca "smashed up face" was hilarious, and I have to admit, I let out a giggle. 
Alex has not had the best luck with ladies and it looks like that is about to change. Intern Morgan is most definitely smitten with him. Giving him the relationship/saving complex with a patient has been done and this character deserves better. He needs a relationship with someone he doesn't have to save and hopefully that can be Morgan.
Is she only interested because he is helping save her son or is it genuine? That is an answer we will have to find out before we can make a call on this budding relationship.
Uh Oh, Grey's. Derek having Mer back on his service did not go too smoothly.
Mer and Lexie caused damage on a patient that can't be fixed. Who's fault is this? My vote is on Derek. He never should have left them alone with his patient. Looks like Mer will be headed back to general surgery.
The Averys Get It Done. Catherine got her flirt on with Richard and made him feel like a man, all while inserting a new bladder they had built. Plus, she rocked that gown. Jackson finally got some action. Mark is going to be pleased.
Some Afterthoughts:
Richard really is a good man. No doubt about it.
Jackson should stop wearing scrubs and wear a tux every episode. That man is gorgeous!
Morgan wanting Alex to get in the picture - creepy or sweet? I can't decide.
Quick appearances by Callie, Arizona, April, and Teddy. Let's get these lovely ladies some more screen time.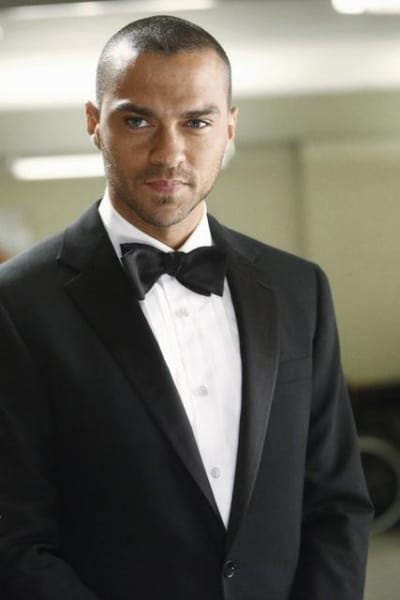 All in all, a pretty great episode. We had to wait weeks for it and we are going to have to wait again for the next new episode. So while we go through so more Grey's withdrawal, let's discuss the episode.
Are Owen and Cristina over now that Owen is a cheater? Who did he cheat with? Should Alex hook up with his intern? When are we ever going to see Meredith and Derek's dream house? How about predictions for the remainder of the season?
Until next time, TV Fanatics.