Mad Men Review: Spring Cleaning the Carpet

Dan Forcella at .
The times they are a changin'. Although it was only seven or eight months since Don went to California with Megan in the Mad Men season four finale, everything felt different in "A Little Kiss."
Don and Megan couldn't keep their hands off of each other, even as they walked into work together, Pete and Roger were nearly at each other's throats attempting to gain the advantage within SCDP, Joan was at home taking care of her new born, and Peggy was working day and night, managing very little success.
Okay, so maybe that last one was exactly what we've seen from Peggy for a few years now, but there was definitely a different vibe to start the season. The period we were watching only moved from October of 1965 to Memorial Day of 1966, but the 1950s feeling of previous seasons was almost entirely gone, which was no more evident than at Don's surprise party.
The lighting, the decor, the attitudes, and a certain performance by a former secretary made the event seem like a portrayal of the changing times.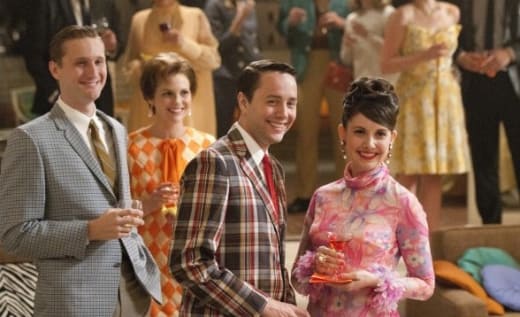 Honestly, the first 45 minutes or so were basically just setting the scene for the new season, so it was a smart move to make this premiere two hours long.
After that, though, everything began to pick up, starting with Don's surprise 40th birthday party! The party was just great moment after great moment. I knew it was going to be a gathering to remember by Don's reaction to seeing Roger outside of his door. No...no... He didn't say anything else. Don just walked right in the door like hadn't just said that.
From the strange array of guests that were at the party, to Peggy's blunt comment about work to Don and Megan, it was great to be a fly on the wall at that event. Nothing, and I mean nothing, could be compared to Megan's performance, though.
Zou Bisou Bisou indeed. I was captivated throughout that song, and during the entire episode for that matter, both with how interesting Megan was as a character, and how wonderful Jessica Pare was at playing her.
Her infatuation with Don, her want for excitement, the fact that she called out Peggy for being a jerk, her wondering what the heck is wrong with all of the people at Sterling Cooper Draper Pryce, and her twisted underwear cleaning bit, made for one hell of a coming out party for Megan Draper and Jessica Pare.
The most interesting thing about Megan's piece of this puzzle will be how it affects Don. Will her personality rub off on him? Or will he revert back to his old ways?
The best inclination of Megan being able to help Don was when he first wanted to go to bed after the party. He just wanted to hide from the embarrassment, but Megan was able to get him to roll over and talk about it. That's not something we probably would have seen from him with any other woman. I have faith that she is good for him, and if not, I know that she's good for me as a viewer.
I also really enjoyed the rapidly increasing level of competition between Pete and Roger. It is so extremely clear that Pete is the one bringing in all of the clients for SCDP - and he's working nearly every hour of the day to make that happen - but Roger's is still doing his best to poach off of the junior partner.
You had to give it up to Petey for continuing to go for the throat, even after he worked his way into a bigger office. Making that fake meeting at 6 a.m. with Coca Cola was great, and watching Roger slowly wake himself up before dawn to attempt to steal the client was hilarious!
Joan and Lane were also highlighted throughout the two hours, but I was far less interested in their stories. Unlike everyone else in the world, I've never enjoyed Joan all that much, and that didn't change here as she struggled with her life transition.
Lane, on the other hand, I have always liked, but his plot dealing with the lost wallet didn't really seem to have a point. He acted like a little school boy with a crush for a while, but when she didn't show up, the whole thing kind of lost its footing. If the lovely Delores makes a valiant return, maybe this was a nice starting off point.
Whether it was a new wife, a new office, a new baby, or the potential of fling, things were changing for our friends on Madison Avenue in "A Little Kiss." Maybe most shocking of all... Sterling Cooper Draper Pryce basically backed themselves into a corner and started taking resumes from some African-American ladies, who wanted jobs as secretaries.
What did you think of the Mad Men season five premiere? Was it worth the long hiatus? What change were you most surprised by? Which has you the most excited? And maybe most importantly, how many times are you going to watch Megan's performance before next week's episode?
Dan Forcella is a TV Fanatic Staff Writer. Follow him on Twitter.