Nikita is one of the few shows that manages to keep the pace up each and every week. The battle never lets up and while Nikita and her side tend to almost always come out on top, they aren't exclusively the winners.
In "Power," we finally had a face-to-face confrontation between Nikita and Amanda; not only one, but two showdowns with both ending in unexpected ways. For all of Amanda's talk, when she had the chance to kill Nikita, she didn't take it. What was that about?
"A moment of weakness," she said. That was a huge moment and mistake that Amanda made. In that instance, she still managed to get away with the Helium-3 Replicator, but down the line it cost her everything.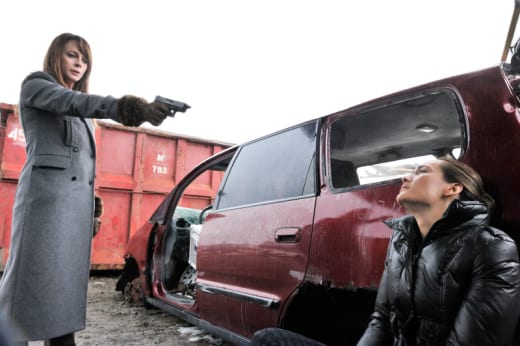 Nikita lived to disrupt Amanda and Ari's plan to take over Zetrov. When Amanda had a second chance to kill Nikita, she again failed to do it and this time lost the Replicator too. Without the clean energy device, Amanda and Ari had no hope to take over Zetrov. Alex completely discredited them which forced them both to retreat.
If letting herself down and losing to Nikita wasn't enough, Amanda lost her precious Division too. She placed all her faith in her plan with Ari, which left her home open for the taking and Percy was more than willing to take advantage.
While both Amanda and Percy are evil in their own ways, he took control of Division fair and square. Amanda's greed got the best of her, which allowed Percy to use it against her. The people working at Division truly believe they are patriots. Amanda's betrayal couldn't have been more clear. She was using them for her own gain and against their nation.
The question is: what will Percy do with Division now? Will he go back to doing jobs-for-hire or work for the best of the nation? Unfortunately, Percy doesn't seem to have learned his lesson. With Oversight out of the picture, what will Percy do next?
Now that Amanda and Percy have switched positions with Percy at the helm of Division and Amanda on the outside on the run. Will Amanda consider using the box to cause Percy problems even if it brings her down too? If these two continue to battle, will that give Nikita the opportunity to further disable them? Now that Alex has given up Zetrov, will she work with Nikita to bring them down?
The confrontation between Nikita and Amanda may have been a disappointment for Amanda, but it ended up empowering Nikita. Amanda couldn't pull the trigger and she saw that as a weakness. Nikita couldn't bring herself to kill Amanda, but she saw that as a sign of her humanity. Division may have damaged Nikita, but she was able to keep her moral compass even when in front of her enemy.
Nikita's restraint was a pleasant surprise. Here are a couple quotes from "Power" that epitomize the difference between Nikita and Amanda. Check out more in our Nikita quotes section.
Nikita: You want to know the difference between me and you? You see a moment of weakness and I see a moment of strength. | permalink
Michael: We won remember. They lost.
Nikita: For a second there, I didn't think I could do it. I guess I can still surprise myself. I know it surprised Amanda.
Michael: What are you talking about?
Nikita: I let her live. I let her live. | permalink
Carla Day is a staff writer for TV Fanatic. Follow her on Twitter and on Google+.