For the time being, Ethan Conant has put the liquor down on The Secret Circle and picked up a crystal.
What does this witch want with such a dangerous item? How will his reunion with John Blackwell affect life in Chance Harbor? In anticipation of this Thursday's return episode, we spoke to Adam Harrington and asked the actor for a preview of what's ahead...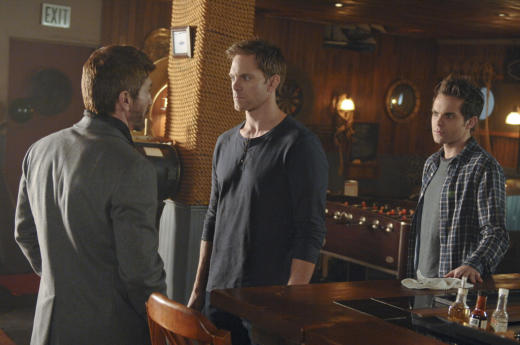 Will we learn more about Ethan's connection to Cassie's mother before the season is through? 
Yes, much will be revealed regarding Ethan's past with John Blackwell, and Ethan's proclamation that he and Amelia were "written in the stars."
What does Ethan want with the crystal? 
We'll see more of this in coming episodes, but as we saw in "Witness," when Ethan attacked Charles, Ethan with power may not be a healthy thing.
Talk about how the return of John Blackwell will impact Ethan's plans and those of the older generation. 
Ethan and John Blackwell have a heated past... to say the least. As we learn more about their history together, we'll see the effects of their friction ripple through the lives of the members of the circle.
You're only 40 years old, yet you're one of the elder statesman on the cast. What is that like? 
I know a lot of people who started families young so it didn't seem odd for me, but then again: is there anything normal about a group of witches living secretly in a town where people are dying all the time?
What overall teases or spoilers can you offer as we head toward the finale?  
It's gonna get intense! Ethan's past will catch up with him, put him in jeopardy and drive a wedge between him and Adam they may never recover from...
Matt Richenthal is the Editor in Chief of TV Fanatic. Follow him on Twitter and on Google+.