Last week on Up All Night, we saw how the amount of screen time given to a guest star doesn't necessarily translate into a proportionate amount of chemistry with the usual cast.
However, on "Letting Go," Stevie Nicks was initially referenced in numerous scenes, which created a build up to her eventual appearance... which was just epic. She exuded this mystical yet fantastically entertaining aura of omnipotence. Some people, no matter their age, never seem to lose that edge, that special something for which they are known.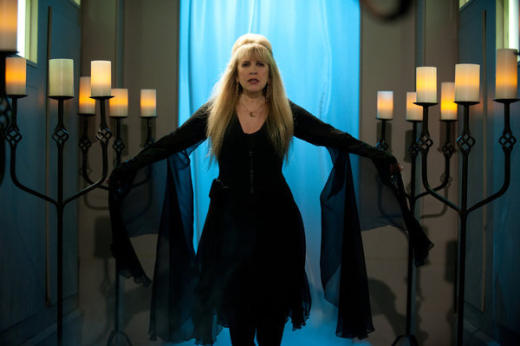 Sadly for Chris, such is not often the case for athletes who - unlike actors and musicians - depend on their bodies ability to stay youthful and competitive in their arenas. It is a very real issue facing many men. I often have said one of the worst things about getting old is that you no longer have an excuse to wear eye black.
So I couldn't blame Chris for trying to get out there and skate with the young bucks but, man, did I have to laugh at his amazingly accurate portrayal of an athlete past him prime enduring the aftershocks of trying to recapture the thrills on one's youth. Kudos to Will Arnett for looking pretty good out on the ice for an actor too.
Reagan was stellar as she dished out heaping spoonfuls of reality to her lip-locked husband while also showing her girlhood giddiness when talking about meeting one of her idols in Nicks. The juxtaposing of Amy and Avian the puppy was adorable and hilarious. Reagan and Ava played their mama bear roles to perfection, although I did have to give the best Caroline Manzo impression award to Ms. Rudolph. The scene where she crawled into the dog bed to comfort Avian was hold the phone funny as well.
I also really enjoyed the return of Julian and hope tonight's episode garners him more appearances. Amy finally got some and boy did she make the most of her screen time. The look she gave Reagan in the car? You can't teach that. And what a touching moment to end on, Amy's first steps, which followed the great "Touched By An Angel" montage. 
Enough from me, though, what did you all think? Be sure to check out my favorite Up All Night quotes and weigh in with your comments. This old guy is off to bed for now. Hopefully I won't pull a muscle trying to take my shirt off.