When Firefly alum Adam Baldwin hit the scene in "Headhunters" on this week's Castle, did Beckett have competition for Castle's attention at the 12th? 
Our Round Table team of Courtney Morrison, Jim Garner, Chandel Charles and Christine Orlando discuss what Beckett really wants and whether she's still the biggest bad ass on the NYPD.
-------------------------------------------
What was your favorite scene?
Courtney: Castle's reaction to Slaughter throwing the gang member in the garbage truck. Like Rick, I kept wanting to look away but finding myself not being able to.
Jim: The opening where Castle was playing with the action figures. It had to be a nod to Wash playing with them on the bridge of Serenity in the opening of the movie.
Chandel: Probably when Beckett confronted Slaughter in the alley despite the fact he threatened to report her for moving in on his case. She's so intimidating when you make her mad.
Christine: There were so many it's hard to choose. Loved it when Castle hit Slaughter when he brought up Alexis. Also loved Castle's reaction when he realized Beckett was putting her job on the line but having his back.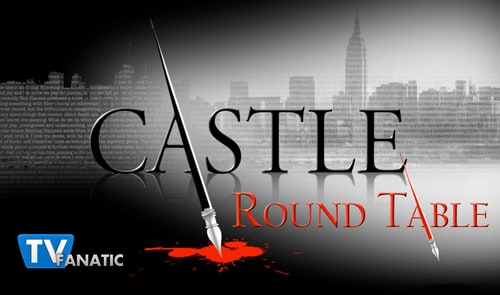 So how do you think Beckett answered Dr. Burke's question about what she wants to do next?
Courtney: That it is time to tell Castle she heard his "I love you" and that she has feelings for him too!
Jim: That she wants to remind Rick why they are partners and show him what he means to her.
Chandel: I don't think she answered. I think she probably changed the subject to some extent. I think her behavior made it pretty clear what she wanted/needs to do.
Christine: Kate's freak out in the therapist's office was hysterical and touching. I think she wants to tell Castle how she feels but she's still struggling with finding the courage to do it, especially since she fears he might not still feel the same way.
What was the best Slaughter/Castle moment?
Courtney: There were a lot of really great ones. I'm going with the scene after Slaughter met with his "informant" who Castle thought he killed and then he showed up at the precinct. Watching the three of them laugh was awesome.
Jim: When Castle suggest his theory on the Jamaicans and Westies were being turned on each other and Slaughter jumped in with him. 
Chandel: Probably when Slaughter left Castle to beat that one guy up. Seriously, it was pretty ridiculous to watch Castle try and pummel the guy while Slaughter watched.
Christine: Nathan Fillion and Adam Baldwin had amazing chemistry. There was something about Slaughter asking if Castle had a skirt that said writer too that just cracked me up.
Who got the better bribe: Ryan or Esposito?
Courtney: Espo. Floor tickets are hard to come by.
Jim: Ryan, gets to set Castle up and use the car for the w e e k e n d. Hands down better than a couple of hours court-side.
Chandel: Ryan. Not only did he get to set Castle up against his will, but he also got access to Castle's prized Ferrari. Those are some legit negotiating skills on Ryan's part. Plus, you really got to see how badly Castle wanted to look cool to Slaughter to agree to something like that.
Christine: Because I'm a car person and not a basketball fan I've got to go with Ryan. Plus he set him up with his wife's cousin. Very funny.
Would you like to see Detective Slaughter return to Castle?
C. Orlando is a TV Fanatic Staff Writer. Follow her on Twitter.