Tonight's Desperate Housewives was all about making plans. With only two remaining episodes prior to the series finale, I didn't expect the sort of LOL-worthy moments delivered here. But, hey, I'm not complaining!
"With So Little to Be Sure Of" also reminded me how my Sundays would soon start feeling a bit empty without the Wisteria women and their sometimes outrageous shenanigans. It really just isn't going to be the same without them. Nonetheless, let's discuss what went down on tonight's unforgettable episode.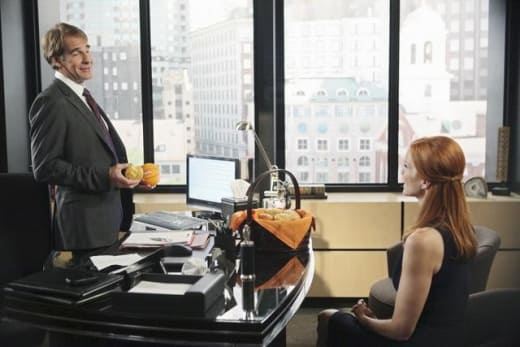 When Bree was arrested and still worrying about her mini quiches in the over, I couldn't help but to think: that's so Bree! Then, we found out that the police actually found her fingerprints on Alejandro because she "tidied up the dead guy." It's kind of nice knowing that the real Bree is back like never before.
By the way, wouldn't the police want to talk to Ben again, as well, after his mysterious conversation with Bree just last week? Sure, that one detective is unbelievably relentless and obsessed with pinning the murder on Bree, but I'm getting sick of Ben constantly playing the disappearing act when it's perfectly convenient for him. 
Do you think that Bree stands a chance with her new high-powered lawyer?
Elsewhere: I loved almost everything about Gaby's storyline as a personal shopper. Like always, she had several witty and amusing remarks that are mentioned in our Desperate Housewives quotes section. It's just a shame that she didn't find her calling years ago. The one thing I didn't care much for was Carlos' issue with having her in the driver's seat now. I get partially why he was upset about her losing the ring and using her "girls" to bring in the clients, but he was also the one who wanted to take a back seat in supporting their family. 
Meanwhile, Lee made a very rare appearance while helping Susan sort through Mike's things. They found a mysterious box and assumed that Mike had a child out there and never told Susan. Julie and Susan discovered that Mike actually had a sister who was autistic and was helping to support her. All in all, Mike was keeping a secret for his mother when she asked him to not tell his family.
Susan wanted to keep writing the checks because she knew that would have been what Mike would have wanted. Moreover, Mike's mother's letter brought Julie to tears and made her realize that she wanted to keep her daughter after all. While I am glad that she came to this conclusion, I couldn't help but wonder what happened to Porter. Also, where was Mrs. McCluskey?!?
As for Tom and Lynette, things didn't get any smoother when Jane delivered signed divorce papers to Lynette. Jane and Lynette's catty showdown was fun to watch, but the icing on the cake was when Lynette threw green cake batter on Jane and her fancy white suit... twice. I was honestly surprised she didn't try to dump all of the batter on her.
Where do you stand with Lynette and Jane? I, for one, didn't mind Jane in the beginning, but it's hard not to root for Tom and Lynette after all of these years. Tom shouldn't have asked Jane to move in when he was still married. Lynette should have also just been honest instead of trying to scheme to win back Tom. I was just glad that Tom was furious with what Jane did with the divorce papers. The best slap of reality for Jane was when she told him that he needed to choose between her and Lynette, and he said that he would always care for Lynette because she is the mother of his children.
It's time for Jane to go away.
So, what did you think TV Fanatics? What was your favorite moment of "With So Little to Be Sure Of"? Share your predictions for the remainder of the series now!