With a title like "Normal" and a track record that is anything but, this week's New Girl had me thinking – what is this show's "normal"? 
It's difficult to nail New Girl down to anything except quirky and offbeat. Otherwise, pretty much everything is fair game. These loose rules (including not always adhering to social reality) allow the show to remain agile.
Plot-wise, New Girl could go anywhere, and I think that's a good thing. So when an episode is titled "Normal", I have no idea what to expect.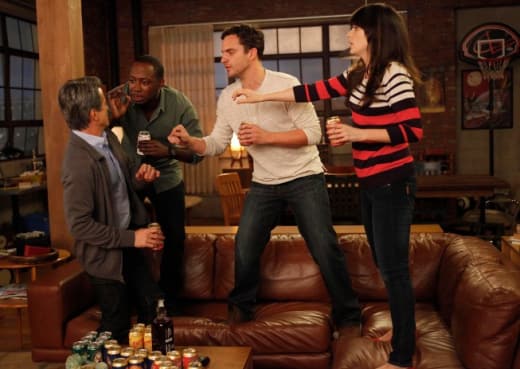 As it turned out, "Normal" was pretty, well, normal - a standard episode of New Girl in tone and story. It was not nearly as absurd as last week's, but we need to have a break from that every once and awhile to appreciate it when it re-emerges and throws the gang into a whirlwind of crazy. This week wasn't so much a whirlwind as it was a gust.
And that gust carried Russell back in. You guys know I think Russell is boring and his chemistry with Jess is basically non-existent, but hanging out with the guys made him more likable. Some of their charisma bled on to him, that is until Nick accidentally stabbed Russell with the Real Apps prototype, and Russell bled all over their kitchen island.
For Nick, Real Apps was another failed attempt at growing up. Taking a break from chasing coeds, and once again inspired by Russell to become an adult, Nick tried to sharpen his entrepreneurial skills. It didn't end well. But with a name like "real apps" or "relapse", it's no surprise that his (and Schmidt's) invention didn't propel Nick forward on his quest for maturity. 
Jess, however, has somehow become the most adult and most boring member of the group. Her relationship with Russell is stable and happy for now, despite their small fight this week, and she's also the one telling the guys to be "normal".
It's all on our New Girl quotes page if you don't believe me. How the tables have turned. Still, we get glimpses of weird Jess hidden behind her giant hipster glasses. Oh, and there are her giant hipster glasses to remind us about that, too.
Happily, the other major plotline this week features Winston. He continued to develop as a character and landed his first adult job since returning from Latvia.
Ironically, it's only with a tag team advice effort from old-and-wise Russell and young-and-wise Elvin that Winston managed to hold on to the job. Kareem Abdul Jabbar seems like an odd choice for a guest star, but at the same time it doesn't feel uncharacteristic for New Girl at all. Maybe even "normal".
Either way, I'm excited that Winston now has a new environment rich with plot potential to explore.
Stray Observations
No new developments on the CeCe and Schmidt front, except that Jess still needs time to fully adjust to their relationship.
I don't fully understand it, but True American looks like possibly the greatest drinking game ever. If anyone drafts up a set of instructions and rules, send 'em my way!
Rejoice Newbies! Fox renewed New Girl for a second season!