Hey guys, did you know that tomatoes were originally called "love apples?" Yeah, weird, but I think love apples is really what New Girl was getting at with this week's episode title, "Tomatoes."
It all starts with Nick's titular fruit (tomatoes are actually a fruit. That concludes all I know about tomatoes). He's the odd man out – the only one of the gang not in a relationship – so he makes the logical decision to swear off women and grow tomatoes. It's his attempt to sow love, a new kind of love that won't disappoint him... but it's a total failure. It brings him back to where he started at the beginning of the season, with Caroline and with Jess (in a way), but paradoxically bringing him happiness.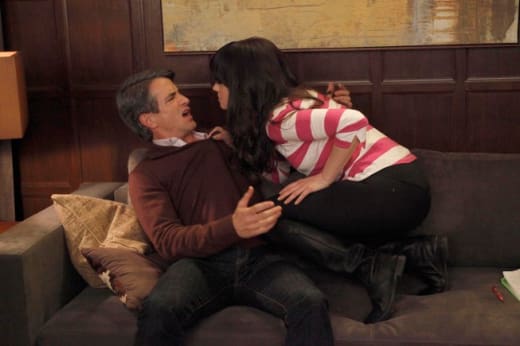 Jess, on the other hand, breaks up with Russell because there's no passion in their relationship. As you guys know, I've been rooting for this ever since Russell appeared. He's a total snoozefest, and I loved that New Girl, in another wink at the audience, acknowledged the fact that Jess and Russell had no chemistry. 
But as we saw tonight, there are different kinds of chemistry. Jess is looking for that spark, the tumultuous rollercoaster of a relationship that Russell had with Ouli and never wants again. Jess and Russell just didn't have it, but Jess and Nick do. 
I think that's the key to the connection we've been feeling all season between Nick and Jess – there's a passion there, even a hatred at times. Sometimes, they flirt over the friendship boundary into relationship gray areas, but it never goes anywhere, or at least not yet. Do you guys think this seals the deal on a Jess and Nick hookup in season two?
While the revelation in Jess and Nick's relationship was one of the cornerstones of "Tomatoes" for me, the other one was CeCe and Schmidt finally admitting their feelings for each other. Of course, Schmidt had to break his penis for it to happen (pretty sure that deserves a contribution to the jar), but I bet he feels it was worth it. His very short date with Nadia was probably the funniest moment of the night and produced the best New Girl quotes of the episode. 
Winston works hard to get some screen time this week, but he's only as an accessory to Nick's plot. Winston and Shelby are apparently now deeply in love, something we have unfortunately never seen but have now heard a lot about. I would have preferred to see this blossoming relationship in an actual scene rather than just as a string of lines that Nick finds annoying, but keep trying writers – you'll get Winston right one of these days!
Stray Observations
There are only two more episodes of New Girl left! What are we going to do for our weekly dose of Schmidt? We could always watch Schmidt's exercise video on repeat.
Do you guys think Jess and Russell's lack of fire was all a setup for this episode? I don't think it was entirely intentional, but it certainly was foreshadowing what was to come. 
I'm not really surprised no one wanted to date Nick and Winston's combined dating profile "Ninston Biller". Throw some Schmidt in there and we'll talk.
I've said this before, but I really hope Nadia sticks around. It's true that her character exists entirely for Russian jokes, but I still laugh every time. That might make me a bad person...