I'm really enjoying season four of Nurse Jackie.
Everything feels fresh, every character feels like he or she is on a new path, except for Zoe and Coop, I suppose, but would we ever want to see a new path for this pair? Sweet and naive, and clueless and douchey, are perfect for each. They are two who should never change.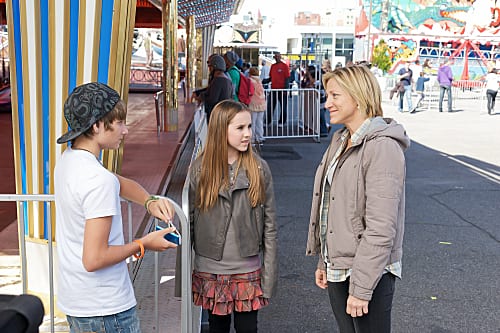 But everyone else? Gloria is a nurse on the floor; O'Hara is pregnant (will we ever learn the father?); Kevin is all business, both with Eddie (I want to understand!) and, as I'm sure we'll see a lot more over the coming episode, with Jackie and the kids.
Can't exactly blame him for wanting to take them away, can you?
Even Grace has evolved, though now she's just a regular teenager girl. Good luck with that, Jackie! She's giving her mom a hard time, she's moody, she's good at using the Internet and she's ready to date... although not if her mom can help it.
We even were treated to a pretty big shock involving Dr. Cruz. Not sure how I feel about him as Charlie's father, not sure if we needed to increase the role of someone who is prevalent enough at the hospital these days and the concept of these two being dad/son feels a bit contrived (Jackie just happened to befriend someone at rehab who just happens to be her new boss' kid?) but let's see where this goes before we judge.
Then there's the title character herself, of course. "Slow Growing Monsters" featured Jackie in a number of fun/interesting/revealing scenes.
I laughed out loud when Gloria and O'Hara reacted with a cheer to her attending an AA meeting, only for her to shush the celebration; I was proud of her inviting Charlie and genuinely trying to help him (and the old, fallen man); and I enjoyed every second of her interaction with Jules, played by the great Rosie Perez.
Often, a character on his/her death bed can come across like a writing crutch, like an easy way for the main character to realize various epiphanies about her life. But I never got that impression here. Chalk it up to Perez, who is just so entertaining as a curse-laden sass (and also pretty good at Jeopardy, I've heard) and the storyline in general: it teetered on the edge of maudlin, but never really went there.
Instead, it just reminded me of one too many nights in Jagermeister-based nights in college.
And the episode ended by successfully having it both ways: Jackie isn't totally over her pill addiction, nor should we expect her to be. But she isn't running straight home and popping this new batch, either. She's legitimately torn, and now legitimately smelly, caught between the past life she really wants to leave behind and a future one that isn't entirely comforting. But what will happen when she learns of Kevin's plans for full custody?
Will she head back to that dumpster and look harder? Or, like season four itself, is this really a new and improved version of Jackie Peyton?
Matt Richenthal is the Editor in Chief of TV Fanatic. Follow him on Twitter and on Google+.