Shonda Rhimes has seen every episode of The West Wing four or five times. I think anybody who loves television has, the super producer quipped during our visit to the set of Scandal last month.
But Rhimes wants to make it clear: her latest ABC drama is not The West Wing, even if it does spend time inside the White House and even if its characters do sound a lot like Aaron Sorkin penned their dialogue.
"The truth of the matter is everyone talks really fast because the script was seventy pages and I said, 'I want all seventy pages, so everyone talk really fast,'" Rhimes said that day.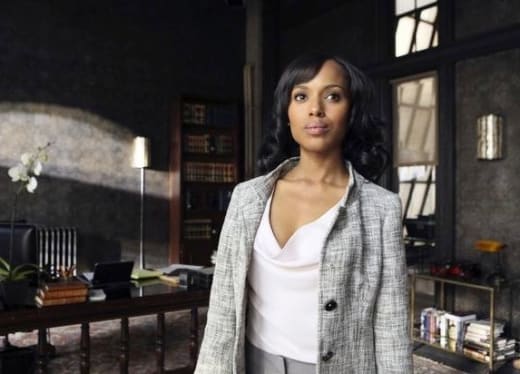 Scandal is based on life of Judy Smith, a legendary DC PR executive, and the pace of the dialogue is "perfect" for the type of show Rhimes is aiming to deliver each week.
"Once everyone was talking really fast, it became a thing the people on the set started doing and it just works. That speed works because you feel like everything's always moving all the time," she said.
And what was it about Smith's life that drew the Grey's Anatomy and Private Practice creator to the project? Why was she so engaged within five seconds of meeting the former consultant?
"I think the way Judy thinks is fascinating," Rhimes said. "She thinks like a fixer. She thinks about everything in a very particular way, and the more you talk to her the more you wish she was available 24 hours a day to solve all your problems... I got engaged with it and just wanted to know more and a world started to form in my head as she spoke and that was really interesting to me."
Look for a cliffhanger to conclude each of the seven Scandal episodes that comprise season one. And also look for the following situations to need fixing by Olivia and her team:
The kidnapping of a dictator's wife in the United States.
The fallout from a plane crash.
Scandal premieres tonight at 10 p.m. EST on ABC. Visit TV Fanatic the moment the episode concludes for a detailed review.