The Finder found himself in search of a missing portion of a voice mail this week. But the journey opened up more than just "The Conversation" about his past, it also opened up a conversation about Leo and the loss of his family.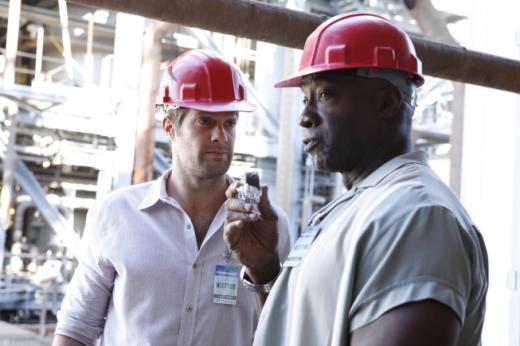 When a wife and daughter walked into the Ends of the Earth Bar, I didn't realize all the emotional baggage they would bring up for poor Leo, who was already grieving the loss of his daughter, whose sixteenth birthday was rapidly approaching. Even four years after this loss, Leo is understandably still struggling.
I think the part that got me the most was when he visited the graves.
What I loved about this episode were all the ways in which Willa and Walter tried to help him get through it. Walter's counsel about letting go of the past was almost like seeing him and Leo switch roles. There's a legit bromance going on here, and the two respect and want what's best for each other.
Willa getting Timo to help Leo by reading his cards was an unexpected move, and the tension between Leo and Timo was palpable. I wonder why the writers chose to include that as part of the episode?
Another thing I'd like to ask the writers is why they felt the need to introduce Gail McHottie? They couldn't have made it any more obvious how important it is for this show to have someone in the federal government constantly involved in their plots. I think it would be okay to go at least one episode without having to include the feds.
That said, I really liked that McHottie turned out not to be a federal agent at all, but an investigator for the oil company. And the way Walter foiled her with the electric fence? Genius!
I think my favorite part of the episode had to be when Leo gave Ellie's birthday gift to the little girl. You could tell Leo was starting to heal a little bit. He really was able to bring that family back together in the end.
Other highlights:
Willa getting a caffeine overload watching the camera footage.
Learning Willa has an uncanny ability to read lips.
Walter manipulating the wire fence to bore through it.
What do you make of the encounter between Timo and Leo? Do you think Leo will finally start to heal?
C. Charles is a TV Fanatic Staff Writer. Follow her on Twitter.