An inheritance, exotic animals, horse whispering and student loans. What was "The Inheritance?" That was the question The Finder sought to answer this week.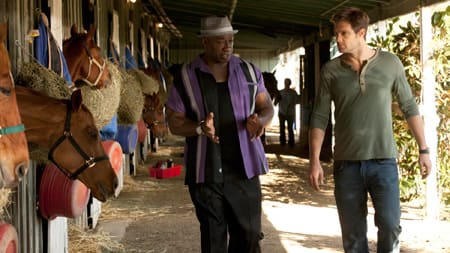 Turns out Joy's inheritance was just as much a lesson in how much her dad loved her and came through as it was the $250,000-plus he won her on the number two horse in the sixth race.
If I remember correctly, this isn't the first time Isabel has asked Walter to help one of her friends, but how funny was it that she was a mortician and working on her own father when Walter and Isabel came to meet her?
Joyce Wethersby was quite the character. It was pretty hard to buy her "sunny-side-up" attitude, and I wonder if it was just me, or if other people were as skeptical of it as I was?
Willa put it best, she was very much like a "prozac princess." While it was clear it was some kind of coping method, I think it could have been played a little bit better.
Perhaps the part of this episode that I had the most fun with was Walter's various encounters with exotic and not-so-exotic animals.
The Cobra incident was pretty entertaining, but got gruesome very quickly when Isabel shot its head off. Nice shot by the way! It was pretty sad that "fat man" died, though. I'm sure experiencing paralysis before death wasn't very pleasant.
Of course, experiencing it not in death was likely also not a very fun encounter for Walter. He sounded like he'd just had his wisdom teeth removed when he spoke, and he stumbled around like a drunken sailor, much like I did after having my wisdom teeth removed a few years back.
Leo was right, though, that is what Walter gets from sticking his hand where it doesn't belong!
Was anyone else surprised that Willa is still willing to help Timo marry Magdalena? Is this because she loves him or because she wants to be able to find love herself?
I'm pretty perplexed by this whole situation still. The show keeps coming back to it. Anyone else concerned that she's about to start a scheme with student loans? This stuff is about to get serious!
If you thought this week's episode was out there, I can't begin to wonder what next week's will be like with a cursed mobster involved. Get excited.
Do you think Willa will follow through on her loan scheme? Do you think it will finally convince Uncle Shad to let Timo marry Magdalena?
C. Charles is a TV Fanatic Staff Writer. Follow her on Twitter.