A judge on the legal ropes. A threat made against Kalinda. The triumphant return of Cary.
Last Sunday's episode of The Good Wife set up a number of storylines for the upcoming season finale - and Round Table panelists Matt Richenthal, Carissa Pavlica and Christine Orlando are here to breakdown "The Penalty Box" in our weekly wrap-up.
Join in now!
-------------------------------------------
What was your favorite scene from the episode?
Matt: I suppose I'd be considered sort of a pig if I chose the intimate moment between Kalinda and Lana, huh? But it revealed a truly vulnerable, frightened side to Kalinda, too! It wasn't all... manual manipulation. So I'm going with that.
Carissa: Cary accepting the position, even thought they lied to him about being first choice. I love that boy.
Christine: Definitely Diane asking Will to keep his pants zipped. So funny and it really showed the humor and closeness that exists with their friendship.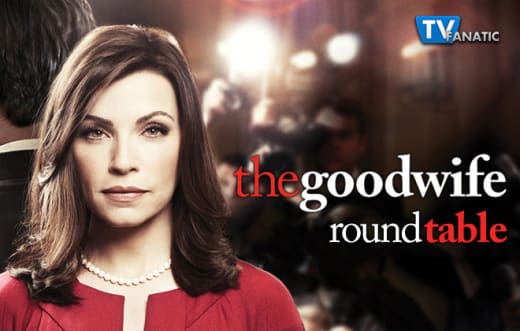 Is Callie a good match for Will?
Matt: I don't see why not. She's a successful, intelligent lawyer. She's open and honest about her past and it's not like Will's is sparkly clean, either. She isn't separated from the State's Attorney. So far, so good!
Carissa: Will always picks women that are just this side of trashy. He has questionable taste and I've not liked one person he's dated since the show's inception. I don't know if that is because they want us to be biased toward Alicia or what, but they always seem off to me. No. I don't think she's a good match.
Christine: No, and it's not just the past drug issues. Carissa is right. Something just feels off about her and I view her as nothing more than a placeholder for Alicia.
Do you wish we'd seen more from Mike Kresteva and/or the race for Governor?
Matt: Very much so. It's not mentioned in the season finale promo, either. Very strange. I'm enjoying Matthew Perry in this role and you'd think there would have been reactions across the board - from Will, from Eli, from Diane - of folks seeing Alicia and Peter, side by side again, taking on the world of politics.
Carissa: Nope. Didn't miss it a lick. I do want to understand more about this case the FBI has against Kalinda. I'm still in the dark about it, and I don't get why the chick who has a crush on her would put her life in danger. No matter how many times she says it's not personal, I don't buy it. So I was glad to put Mike aside for more on keeping Kalinda alive.
Christine: Yes. I loved seeing Cary back and always like Kalinda, but there was all of this build up to that final scene last week. Alicia standing next to Peter on the podium and Mike threatening Peter in the elevator and then... nothing? With only one episode left in the season, that struck me as odd.
Grade the case of the week.
Matt: C. It was interesting on its own, but we've seen Alicia question the morally grey universe of the law plenty of times before. It was also difficult to focus much on it when I was standing up and applauding Cary's return. Hooray!
Carissa: I give it a B. It's another reason I could never be involved with the justice system. There are so many floating pieces that it's difficult to ensure a fair trial for anyone. I don't envy the work they do, nor the stress they must feel to try to protect their client at the cost of everything else, even the truth. It's kind of a crappy setup, if you think about it.
Christine: B+. That judge has always been one of my favorites and I love that he came to Diane for help when his back was against the wall. I also liked how Diane and Will debated whether taking the case was a good idea.
Matt Richenthal is the Editor in Chief of TV Fanatic. Follow him on Twitter and on Google+.