30 Rock debuted "Queen of Jordan" last season to rave reviews, specifically from me. It was a hilarious parody of the awful reality television that America has embraced in recent years.
The problem with this week's sequel, "The Mystery of the Phantom Pooper," was that all of the shiny, new mockery from the first one had already been used. The funniest moments from the original just felt a bit watered down in part two.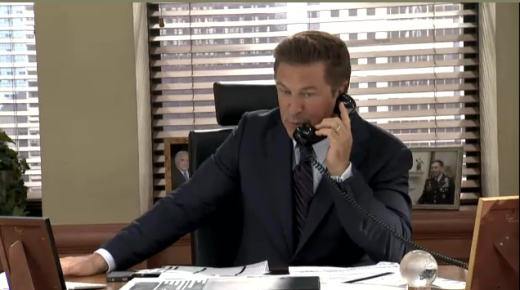 Whether it was using subtitles when we could obviously hear what the characters were saying, playing up the fact that all these types of shows want to do is have giant fights or the ridiculous titles and descriptions on the title cards, we had seen it all before.
That doesn't mean it wasn't funny, though. It brought the laughs, just not in the same way that the original dd. 30 Rock still managed to do a wonderful job with the title card descriptors. Some of my favorites were:
NBC (a television network)
Kenneth- not worth describing
Lisa Lampanelli?
Jack's mother in law, keeping it tight
While the old tricks of the trade were second rate, there was something brand new that certainly set "Queen of Jordan 2" apart from the original. Baby Virginia!
Whoever was playing Virginia, or whoever was getting her to make such a great face at Liz, should be commended for such fantastic work. A kid that young and cute, giving such a death stare, made it absolutely impossible not to smile.
It was Jack Donaghy's story line that was responsible for the most humor, however. Between his man Gus's hat, his sport coat/sweatpants combo and his love of sun electricity, that dude was a riot and a half.
Add to that the semi-hidden conversations Jack had with Diana about their affair, their inevitable kiss and then everyone at the party lining up to get a smooch from the boss, and it was a good night for Jackie D.
Finally, in an effort to create as much shock value as possible - which is another staple of reality television - Grizz tossed out a gigantic spoiler about one of the most beloved shows on television. Needless to say, if you are currently in the middle of Game of Thrones' first season, I apologize for everyone.
It didn't have me doing quite as many spit takes as last week's Live Show, but the second "Queen of Jordan" was yet another hilarious installment of 30 Rock's sixth season.
What did you all think? How did it compare to last year's original "Queen of Jordan?" Check out our 30 Rock quotes page, and then sound off in the comments.
Dan Forcella is a TV Fanatic Staff Writer. Follow him on Twitter.