In what might be the most somber American Idol intro to date, producers reminded us that one of these contestants will be returning home for good-ish, while the two who remain will battle for the Idol crown next week. There's still the summer tour, of course, which I suppose is a consolation for whomever doesn't win.
Tonight we'll get performances from Lisa Marie Presley (I'm as confused as you are) and Adam Lambert. And, of course, we'll hear from Jimmy.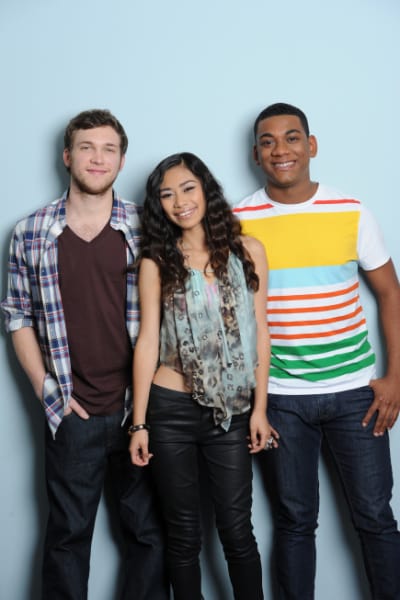 The trio opens the night with "Got To Get You Into My Life." I think there are some Beatles rolling over in graves. This is not a good song for any of them,  but especially not Jessica. And Phillip. And, okay, Joshua, too. The Beatles weren't meant to be growled.
Joshua Ledet takes center stage. Jimmy said Joshua had a good night, but not his best night. For him, the judges were over-generous with their praise of Joshua's first number. He called Joshua the competition's most exciting showman but thought "Imagine" was overdone. He wasn't wowed with Joshua's performance of "No More Drama" but accepts responsibility since he picked the song. I loved Joshua's third number, but agree with Jimmy on the first two.
Lisa Marie Presley didn't even look good. That's about all I have to say about that.
Jessica Sanchez is up next. Jimmy didn't think "My All" came together for Jessica and disagreed with Steven--he didn't think it was enough to win the competition. He didn't seem to like her second number either. Jimmy thinks Jessica is talented enough to perform at the Grammys but realized that perhaps he didn't do her any favors in choosing "I'll Be There" since two people sang that song originally. While I think Jessica is talented, she really lacks direction and originality.
Performing "Never Close Our Eyes," Adam Lambert is back on the Idol stage. This has a distinctly late 70s vibe to it. Maybe it's the neon clothes. Or the lighting. This isn't my favorite song of his, but I'm sure it'll be a hit. I always thought he should've won over Kris Allen.
Phillip Phillips hits the stage to hear his critique. Jimmy thought he did a great job on "Beggin" and said that Phillip's sound is becoming more and more original. He agreed with the judges that "Disease" was a bad choice, but said he admires Phillip's willingness to go down in flames to make the choices he wants to make. The song choice Jimmy didn't get wrong? Bob Seger's "We've Got Tonight." He called it flawless and emotional. Y'all know my thoughts on last night. I love Phillip, but I thought his first number was better than his last.
Kieran dims the lights for the second to last time. The first person through: Jessica Sanchez. Joining her in the Top Two: Phillip Phillips.
It's goodbye for now to Joshua Ledet.
I had a feeling this would happen as I watched last night. Joshua grew on me as the season progressed, especially with the clips and interviews. I'm actually kind of sad to see him go. I was pulling for a Joshua-Phillip match-up in the finale.
Are you excited by a Phillip-Jessica throwdown next week?
Miranda Wicker is a Staff Writer for TV Fanatic. Follow her on Twitter.