"Pa Make Loa:" Touch of Death.
This episode marked the first part of the NCIS: Los Angeles/Hawaii Five-0 cross-over event that many fans of both shows have been waiting for. This was also the second (and last) episodesthat will be affected by Alex O'Loughlin's absence.
I will freely admit that I'm like Danny when it comes to biological warfare. Even when I was in the service, the idea that something I can't see could cause my rapid death gave me the willies and I, too, would have become a hypochondriac.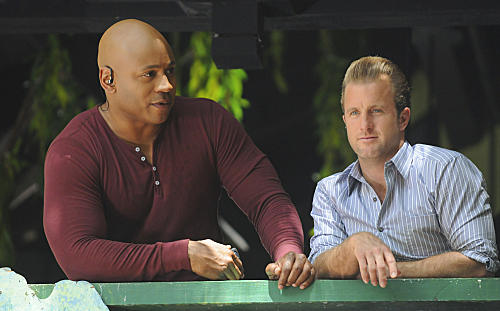 That being said, it was a lot of fun having Hanna and Callen from NCIS: Los Angeles visit the Five-0. I will freely admit that I haven't watched the show since very early in the first season, so I have to turn to the TV Fanatics who are fans. Is Chris O'Donnell always as brooding and depressing as he was here? He spent nearly the entire episode looking like he had been eating a bag of lemons on his flight over.
Now, before you mention Comescu and the attempt to kill Callen's family, keep in mind I haven't watched the other series and the point of this cross-over is to expose me to the characters so that I want to watch the show. Watching him be grumpy and brooding didn't endear me to the character or drive me to watch his program. Sorry.
However, any points lost by O'Donnell were made up two-fold by LL Cool J, as I think I have a budding man-crush for Sam Hanna. Danny and Sam's "cargument" was as good as any Danny and Steve have had. The trump card was Sam telling Danny his car's name was Winifred (or "Winnie for short) at the end. That made me like Sam even more. 
And for those missing Steve, while he wasn't in the episode at least his spirit was: 
Danny: We are going to take a page from McGarrett's playbook.
Chin Ho: What do you mean by that?
Danny: You take the playbook, and set it on fire. | permalink
With that, he faked giving a suspect Small Pox to get answers out of him while he was actually giving him a B12 injection. Bravo, Danny, you have graduated from the McGarrett School of Suspect Abuse, Steve will be proud. Be sure and check out some of our other Hawaii Five-0 quotes!
While Steve will be back next week as we get into the final episodes of the season, don't forget to check out Carla Day's NCIS: Los Angeles review for the back half of this fun event.
Jim G. is a TV Fanatic Staff Writer. Follow him on Twitter.