At the conclusion of last week's Missing episode, one thing was very clear: Martin has a lot of explaining to do. And explain he did when I interviewed the man behind Suspect Zero, Keith Carradine!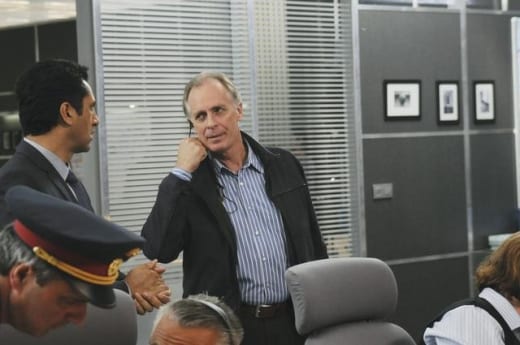 Given his many years in the business, highlighted recently by a turn on Dexter as Detective Frank Lundy, I wondered whether the actor was drawn to action thrillers.
"I do love the genre," he said. "I find them very entertaining and this is a particularly accomplished one. [Creator Greg Poirier] has been masterful in the design of this show."
As for Martin, what can one say about a man who seems so caring one minute... and so devious the next?
"He's certainly a very complicated guy," Carradine said. "When he told Becca she was like a daughter to him, he meant that. People are complicated. As more is revealed about how he would up in this position, I think the audience will find this fascinating. People make choices and sometimes they end up in dark places and I think this is probably true for Martin Newman.
"His paternal responsibility for Becca and Michael is genuine, but is mitigated by circumstances. He's built a house of cards and there's a wind kicking up."
And while the star, understandably, cannot reveal what will happen once/if it all blows down, he can gladly gush about everyone else on the Missing set.
"It's been terrific working with this cast. I've been doing this for some time now. I've come to learn that the most important thing is really who is involved."
Missing airs a new episode TONIGHT. Visit TV Fanatic soon after it concludes for a full review. For more on the show go to: www.abc.com/shows/missing