Necessary Roughness Scoop: Callie Thorne on the Strength of Dr. Dani

Sean McKenna at .
After scoring the scoop on the Atlanta set of Necessary Roughness from EP Kevin Dowling and actors Mehcad Brooks and Scott Cohen, Sean McKenna is now here to wrap up his interviews with various cast members from this USA hit.
And who should finish it off by the leading lady herself, Callie Thorne.
--------------------------------
Thorne's excitement and enthusiasm for a second season was as infectious as her smile when she talked about slipping back into the role of caring therapist, Dr. Dani Santino.
"This was the first time coming back into the second season of a show, being number-one on the call sheet and I was very nervous about that... really I think what our cast, what we all respond to the most is laughing with each other and even if it's dramatic scenes or silly scenes, that's how we get into it with each other and I think that shows up on screen."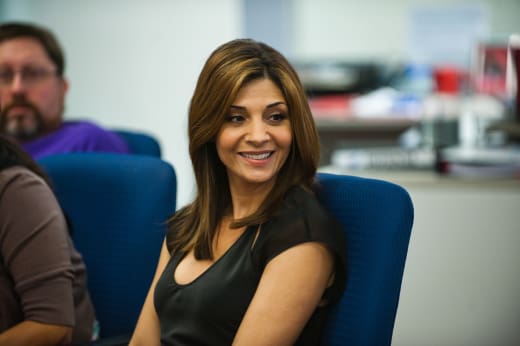 Of course, Dr. Dani is based on real life psychologist Dr. Donna Dannenfelser and Thorne has gotten a few tips and insights from her on how to make those therapy scenes feel realistic:
"One of the things that's really hard for me as Callie, doing a lot of the therapy scenes is you see someone in pain, in emotional pain... and your instinct is to feel for them and to want to go and give them a hug... The main thing I've learned from Dr. Donna is that you have [to be] that neutral place so that you can be a safe haven for that patient, a place that they can be honest, not feel judged, not feel like they have to impress you.
"You know acting is reacting but most especially in those therapy scenes I have to really go to a certain head space and not give too much away and let those scenes really be about who I am with and and let them tell their story."
Of course, even with Dr. Dani doing plenty of listening, she still exudes an incredible strength.
"The character is based on a very strong woman. I've always said she's this force to be reckoned with.
"Sometimes you've got an enormous amount of homework to do in order to bring a woman like that to life. Often on TV as well, it's changed in the past few years because there's so many incredible lead women now and they're very layered. And some of them are likable and some of them are not and that's what women are, we're many different things. So I got all that going on and then I have the luck of good writers that are creating this woman alongside with me."
But with TK's potential lack of stability, can Dr. Dani help him get through the trauma of a shooting?
"He's in this sort of state of denial and that makes their relationship really difficult," Thorne says. "She can't get through to him and so it's interesting because I have thought of it more in terms of a mother kind of trying to get through to their child, sort of try and get in any which way to get him to admit what happened because he really is as wild as TK was last year... but not for the best reasons."
Even in dealing with the Hawks' star player, Dr. Dani also gets to step off the field and immerse herself in other patients outside the football arena. Most notably for the actress is the upcoming roller derby episode.
"I was really excited that it was a female that we were focusing on and then roller derby's always something that I've always loved watching… the actress that they cast as the girl with the issue was a real tough little cookie and she was getting really involved in it. And so that was fun for me because I got to go and sort of be in there and meet all these incredible women, these tough women, and I think that's what I'm very excited about in regards to the second season."
She laughed and concluded: "There will be way more of leaving the football stadium, although obviously I love going to the football stadium. But that just makes it more exciting for me."
Callie Thorne's sexy and smart doctor is back in session when Necessary Roughness returns Wednesday, June 6, at 10/9c on USA Network.
Sean McKenna was a TV Fanatic Staff Writer. He retired in May of 2017. Follow him on Twitter.