We entered the "No-Kimono-Zone" on Nurse Jackie this week, and it was filled with temptation.
First, there was sex. With Dr. Cruz, Jacks? Really?!? I don't even know why that possibility strikes me as so disturbing, it just does. Edie Falco is beautiful, but she's so transformed herself into this trouble title character that I remember finding her sex scenes with Eddie equally nausea-inducing.
There's just something so non-sexual about Jackie Peyton. She's always in scrubs. Her personality isn't exactly seductive. We've seen her snorting one too many crushed pills. I don't know, maybe it's just me.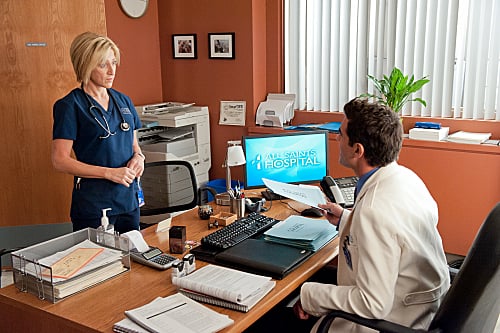 Then, there were those drugs. At least one pill's worth.
Season four has done a terrific job building a will-she-or-won't-she tension. Each episodes has seemingly given Jackie cause to use again - from Grace learning about rehab, to Kevin finding a younger woman, to his filing for custody of the children - and I continue to think she'll return to her old habit.
But, once again, Jackie proved me wrong. She actually is relying on her support system instead of any outside substances. Jackie may never admit it, but Zoey (even in a kimono) as a housemate is helpful to have around, partly as a distraction, mostly as someone who actually, truly, for whatever reason... likes Jackie. She really does. She simply likes and admires her superior and, come on, who wouldn't feel good about that?
Zoey, especially with her personality, serves a a substitute high for Jackie. She boots her self-esteem.
And then there's O'Hara, who manages to be everything Jackie needs: a shoulder to cry on and a forceful influence to tell her exactly how it is. Honest. Sensitive. Funny. Blunt. Pretty. Who couldn't use a pal like O'Hara?!?
Stay away from my bloodline. Best line of the episode. Sorry, Coop.
This fourth season has also done well by Gloria. Putting her on the floor has given the character a lot more to do than merely sitting behind a desk and barking out orders. Here, we get to see how her experience comes into play and how she has a lot in common with Jackie: not the drugs, but the willingness to bend the rules and do whatever is best for a patient. You're welcome, Lonna.
Overall, the episode felt a little like it was treading water until the back half of the season really picks up on Kevin and Jackie's custody battle. We didn't get much of that in this case, outside of seeing Jackie's understable panic. Great, great work by Falco in answering that call from Kevin's lawyer early on and acting without saying a word.
For a half hour full of temptations, the best thing I can say about this Nurse Jackie installment is that it left me wanting more.
Matt Richenthal is the Editor in Chief of TV Fanatic. Follow him on Twitter and on Google+.