This week's Nurse Jackie was filled with a number of interesting character developments, but perhaps the most intriguing aspect of "Day of the Iguana" was the choice of the episode's title itself.
On one level it referenced the third installment in the Hank Zipzer series by Henry Winkler. Winkler's title character is a dyslexic with learning disabilities who, despite his condition, is a very intelligent boy struggling with other people's poor opinion of him as well as his own self doubt. While certainly not the main focus of the episode, I felt like this reference had to do with the development of Coop this week.
Coop, we know, has struggled with his own affliction and was called out by Cruz this week for having a pathological need to be liked. While Cruz noted this as a potential liability to the hospital, O'Hara later on finally saw Coop for what he really is. He just wants to be part of the village - as he put it - and finally seemed to convince O'Hara of as much as she finally gave in and agreed to be Baby Bjorn buddies with her colleague.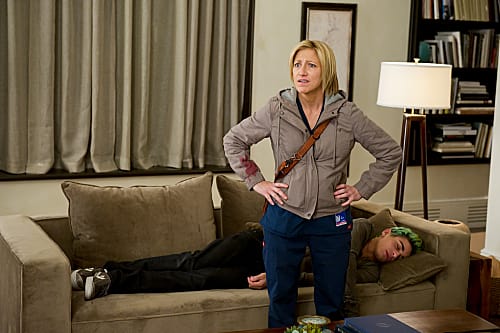 "Day of the Iguana" also could have been a subtle reference to The Night of the Iguana, a play written by Tennessee Williams based on his 1948 short story. In it the main character is at the end of his rope but still reached out to help a woman who struggles to care for her moribund grandfather. This relationship certainly was mirrored in the storyline where Akulitus tried to help out a former nurse and friend suffering from dementia until his daughter and caretaker could arrive.
It also closely resembled the relationship between Jackie and Cruz. Jackie is at the end of her rope, but still has taken the time to try and help out Charlie while continually doing right by Mike Cruz, like she did tonight when she covered for him while he was in the midst of his panic attack. 
Moving away from the episode title's possible significance, I have to admit that I, like Cruz, was skeptical of the school teacher and was sure his kind hearted demeanor was just a manipulation to draw out an apology or confession from the staff to later be used in a lawsuit against the hospital. Dick and Coop proved both me and Cruz wrong, though. Cruz was in a tough position, however, and should not be faulted as it is his job to be skeptical like he was in order to protect the interests of his staff and the hospital. 
It was fun getting to see Edie Falco and Aida Turturro share the screen again wasn't it? Turturro's line about Spanx topped my list of best Nurse Jackie quotes of the week. 
Jackie has never been one to quit on people and her relationship with Charlie has been no exception. Even after the smoothie incident she came to his rescue and bailed him out of jail. While we all knew it would happen at some point, the closing scene where Jackie and Cruz came face to face for the first time in a manner of speaking was a tremendous conclusion to all the build up we've seen the last few weeks.
It may have been my imagination, but Charlie did not look to be doing too well there on the couch when his dad walked in to find Jackie watching over him. A glimpse at upcoming scenes seemed to hint at a possible crisis moment where the two coworkers are forced to use their skills to resuscitate the recent birthday boy. The result seemed to be Cruz waging war on Jackie and those who helped to cover up her jaded past.  
As always we were still treated to some laughs this week, like Zoey's awkward speech to Lenny in the chapel and when Dick walked up to Eddie's window and asked for two tickets to Serpico. Things between Jackie and Kevin are going to get uglier as the custody battle ensues, but at least we know Jackie will not be alone in the fight of her life.