Desperate times called for desperate measures tonight on Scandal. And for some of the characters, those measures weren't just desperate. They were also extremely gruesome.
"Crash and Burn," while dealing with several tangential story lines, could really be called "All About Huck."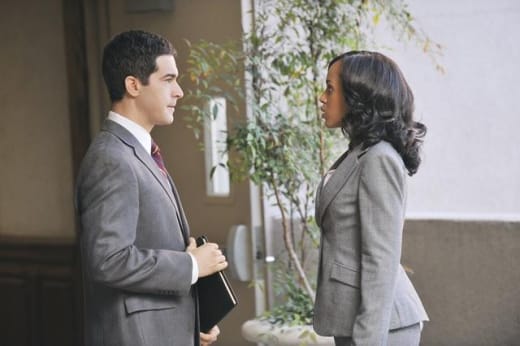 We've spent the last several weeks learning the histories of the members of Team Olivia. Last week, through Cyrus' investigation into Olivia and her team, we discovered more about everyone - except Huck - than we had in the prior three episodes. The loyal, gun-owning, computer genius has been something of a mystery until tonight.
Then, we got Huck's story. And what a story it is.
First, the squad discovers that Amanda Tanner is missing and Huck clues Olivia in to the fact that she's being watched. From there, he details how Amanda was likely stolen from the apartment. When questioned about how he could possibly know this, he says he knows because that's how he would do it. When he discovers that he knows Amanda's abductor, he sets up a meeting with the assassin and learns that Amanda is dead.
It's been clear that Huck is fiercely loyal to and protective of Olivia for quite some time, but what hasn't been clear is why. Huck, after suffering a mental breakdown because of the work he was required to do as a member of a Black Ops team for the CIA, was unceremoniously dumped on the street in such a manner that prevented him from contacting his friends or family again and left him homeless and living in the subway. That is, until Olivia came along and cleaned him up and got him "sober," where "sober" means he no longer enjoyed torturing and killing people for information.
Watching him torture his former colleague for information on the whereabouts of Amanda Tanner's body, at Olivia's request no less, was chilling. Watching him pull away from her as if he's in pain later in the episode was kind of heartbreaking.
He has followed her over his own cliff all for the sake of knowing what happened to this girl. Because of the subtleties in his character, the way he portrays his brokenness when the others seem so put together, he's fast becoming one of my favorites of Team Olivia.
Other points of note from this episode:
The President and Cyrus differ in their reactions to Amanda Tanner's death. President Grant seems somewhat shaken, or at least saddened by the news. Cyrus, however, has a complete disregard for her death.
Cyrus and the President learn that Olivia wasn't the one who sent the tape. They know there's someone else within their protected circle who knows of the President's indiscretions. How much did I love that the blackmail tape was a recording of Nixon's resignation speech? My money's now on the Vice President for being the blackmailer, or someone in her camp at least.
Speaking of the V.P., she certainly seemed like a snake in the grass. A snake whose politics seem vastly different from that of the President's and who did not like being forced to vote against her personal desires in the Senate. I don't think I'd trust her any farther than I can throw her.
Stephen couldn't cheat on his fiancee' to get the mechanic's report for the airplane crash, but could cheat on his fiancee' to get the coroner's report for Amanda Tanner. While I hate that he cheated, though, monogamy doesn't seem like his M.O., I'm glad Team Olivia got the information first. Amanda Tanner's baby wasn't the President's.
It wouldn't be awesome to be the President given how impossible it seemed for him to leave the White House without alerting the press corps he planned to leave. Does he have to alert someone when he wants to go to the restroom, too? However, the fact that he made it happen and went straight to Olivia certainly heats things up next week.
The plane crash subplot served only as a way for Harrison and Abby to have something to do, like be a savant with sound recordings and look uncomfortable when other women cry in front of you. That's why it's not mentioned very much in this week's review.
What did you think of Huck's story? And what did you think of the Vice President?
Miranda Wicker is a Staff Writer for TV Fanatic. Follow her on Twitter.