The Amazing Race Review: The Winners Are...

Luke Dwyer at .
The 20th season of The Amazing Race came to a close this week and once again the show delivered a phenomenal final episode. Everything you could want in the ending of a reality television show was present: Difficult challenges, unpredictability, gaffes, arguing and awesome scenery – we got it all!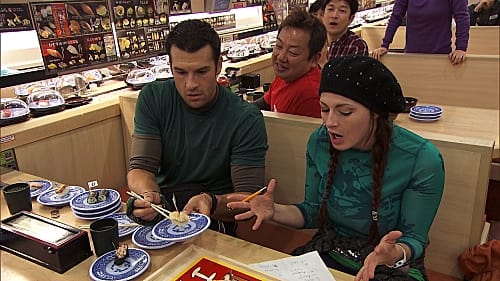 One downside, though, was that both the penultimate and finale were aired back to back. Normally I do not have a problem with two hours of The Amazing Race; the more the merrier. However, this week the second to last episode was not very interesting at all and felt completely disjointed from the final leg.
Though not her fault, Vanessa's ankle injury from the previous leg ruined any drama for what is a normally exciting race to the final three. Once she and Ralph were forced to have her complete the Japanese game show Roadblock, they had no chance of catching up and avoiding elimination.
However, Vanessa needs to be given a lot of credit for refusing to quit despite competing on what was obviously a very injured ankle. Most of the time when someone complains about an injury on The Amazing Race I assume they're being a baby. I just assume people are exaggerating their pain.
Vanessa, on the other hand, went in the other direction. She had a badly bruised and swollen ankle and barely said a word. During the Roadblock itself she had absolutely no stability on her ankle. She could run in a straight line, but the moment she lost her balance and needed to stabilize her body with her left ankle, she recoiled from the pain and stopped putting weight on it.
Nevertheless, it took her significantly longer to complete the Roadblock than the other teams. Vanessa and Ralph would not be running for the one million dollar prize, but I feel like they should be very proud of their performance. Early in the season I did not give them much of a chance to be competitive and they were an injury away from making it to the finals.
Another team I didn't give much of a chance to win was Brendon and Rachel. For better or for worse they were the beneficiaries of Vanessa's ankle injury and eked in to the finals in third place. Art and JJ and Rachel and Dave, on the other hand, went in to the finals as juggernauts and heavy favorites over Team Big Brother.
The opening clue of the finale had the teams trying to solve a riddle to get to their first location. Although Rachel and Dave and Brendon and Rachel were able to solve the puzzle, Art and JJ got woefully lost trying to figure out where to go. These are awesome clues and I wish the race incorporated the idea more frequently in earlier legs.
After their gaffe, it looked like Art and JJ were finished in terms of having a chance to win the race. No sooner did Art and JJ get lost trying to find the twin towers than Brendon and Rachel returned the favor by not only not walking to the baseball fields, but also taking a cab to the wrong field. 
Once they realized their mistake the fireworks began. For all of his patience, which has been impressive, Brendon got as exasperated as we've seen him with Rachel on the race so far, visibly frustrated with her lack of attention to the detail of the clue. Cue the waterworks! Somehow this emotional setback prevented Rachel from running, much to Brendon's chagrin. Cue the waterworks again!
What ensured after the helicopter ride was downright confusing. Rachel and Dave are shown noticeably frustrated with their cab driver trying to find the coral gate.  Art and JJ, meanwhile, are catching up and have no idea. Rachel and Dave seem to get to the next clue first, but then Art and JJ are shown somewhere else with the tag "first place" below their name. Huh?
Although it was never confirmed by the classic The Amazing Race ominous sounds whenever anyone makes a mistake, eventually we realize that Rachel and Dave somehow got ahead of the second Roadblock and found the next clue to the finish line. This leads to a previously unseen moment in The Amazing Race.
Rachel and Dave get to the finish line, everyone is cheering, they think they've won and Phil delivers the death blow that they haven't completed the Detour.  The race has seen teams finish a leg before but be unable to check in, ultimately missing out on a prize, falling a few spots or even eliminated in rare cases.  However, no one has ever blown winning the race with such a mistake!
Suddenly, after being left for dead to star the leg Art and JJ are in first place. And they have no idea! JJ was (understandably) frustrated with Art's inability to navigate the traditional Hawaiian sled down a hill, but imagine if he knew that they were in first place? The entire time they assumed they were behind so his sense of urgency was diminished.
When Rachel and Dave found the second Roadblock (kudos to Dave for realizing there were two) they added insult to Art's injuries when Rachel navigates down the hill in just two tries. Ultimately Art would take over 16 tries allowing Brendon and Rachel to pass them as well. Art and JJ went from being in first and not knowing in to being in third place in the span of 10 minutes.
Fortunately for Rachel and Dave, they were able to win The Amazing Race despite what could have been a mistake that would have gone down in history.  Instead they make their own history by becoming the first team to win eight legs of the race. Congratulations to Rachel and Dave!