Some things were most definitely done on episode two of The L.A. Complex, from one aspiring actress landing a role, to one hopeful dancer getting her foot in the vodka-sponsored door and her mouth on the guy not from the Goonies to...
... oh, right, Andra Fuller being introduced as rapper Kaldrick King, Tariq's musical hero, new boss and gay lover.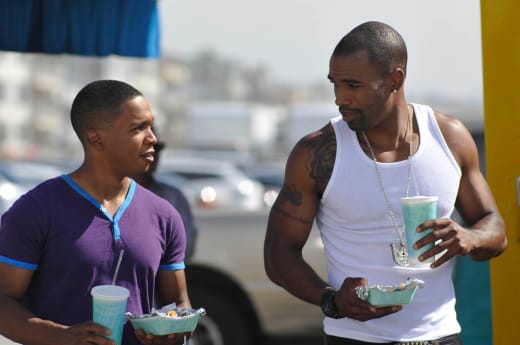 Well, okay then!
I was actually fascinated by King long before the concluding shocker. Do Jay-Z or Kanye West have his kinds of problems? Probably, right? Seriously, I don't exactly pity 50 Cent, but it must be hard to base your reputation of getting shot multiple times many years ago... when you now roll with a security detail as large as the President's.
Is this why rappers make it rain at strip clubs? Why Lil Wayne saw his career take off when he went to prison? It's actually not difficult to imagine it being a challenge for wildly successful musicians to keep it "street." Look at Chris Brown. He pummeled Rihanna to a pulp and performed twice at the Grammys this year.
I can't pretend to know a thing about hip hop, but someone on The L.A. Complex writing staff must have experience in that world because the character of King has me unexpectedly curious about the artistic struggles of millionaire rappers.
As for the kiss, can't exactly say I saw it coming. Tariq clearly has daddy issues, so I figured this relationship would play out more akin to father and son than partner and partner. In the moment, it feels like nothing more than attempt to shock, but it's also far too early to judge. Let's at least give the show credit for spending a lot of time with these two prior to the lip lock.
I actually felt like I really was watching a relationship develop. I just didn't think it would be this kind of relationship.
Elsewhere...
Connor clearly has some kind of image problem, right? An eating disorder, perhaps? We watched him deal with stress on two occasions, both while exercising, the second, more stressful time, by exercising really hard. This seemingly perfect leading man most certainly could benefit from a fault or two.
Although Raquel would say he has plenty of faults. Cougar. Child. I'm dressed like a hooker! Loved the interaction between her and Connor, and am still loving Raquel overall. She manages to be both bitchy and sympathetic, an unusual combination for sure. Both she and King represent what makes The L.A. Complex stand out from other primetime soaps, the inside look at veterans in the industry.
But the show is not afraid to mock that industry, either, with Raquel's "Voodoo" comment regarding actresses getting pinned and Alicia's experience on the red carpet being deemed the "real world" by her interesting new friend. Do we trust this guy?
I still don't like Nick too much. His nervous nerd personality feels fake and forced. But I did laugh at his use of The Notebook. Seriously, EVERY female alive loves that film.
Unless ratings pick up considerably from last week's premiere, we won't be enjoying these characters for very long on The CW. And this episode actually made that disappointing for me. I'm enjoying the peek into both sides of Hollywood, the new and the old.
Come on, how can I not be into a show that has me wondering what a track by The Game based on The Buffett Rule would sound like? He must think it's so cruel! Yo!
Matt Richenthal is the Editor in Chief of TV Fanatic. Follow him on Twitter and on Google+.