The Secret Life of the American Teenager Review: Bitter Baggage
Leigh Raines at .
There was a lot of baggage brought up on tonight's The Secret Life of the American Teenager. Whether it was the unwelcome presence of certain exes or the topic of past love, "The Splits" took us for a little trip down memory lane. It also brought to light certain grievances some of the cast are currently nursing.
As for the presence of certain exes, I would say the most random appearance was Betty. I really enjoy Jennifer Coolidge as an actress, but I see zero purpose for her to keep popping up in episodes.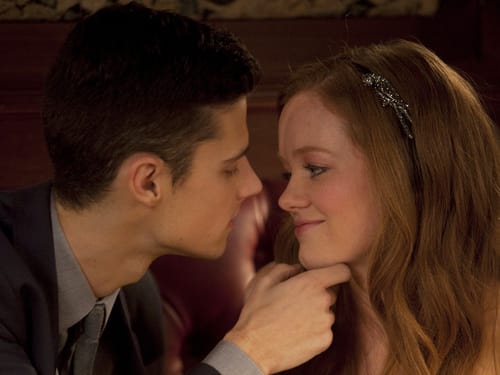 I can see that she is a plot device to help push things forward with Camille and Leo, but can't they find another way? Plus, they have her dressing like a teenager from the 80s and she looks like a kid. If they are going to have her on the show, at least give her better dialogue than comparing Leo to "God and Santa Clause rolled into one." For better lines than this, refer to our The Secret Life of the American Teenager quotes section. 
On to the younger Boykewich: Ben prepared for his first date with Dylan. As annoying as I find Dylan, the montage of them getting ready to the old timey music was very cute. But that is where I draw the line. Ben's silk shirt was just... there are really no words. Dirty pimp? Salsa instructor? I don't know. I also hate Dylan's parents so much at this point that just their presence makes me want to hurl my remote at the TV.
Your daughter smokes weed, you don't need to take pictures of her before her first date. This is all really backwards. It's also not prom. Nobody effing does that!!! I try and limit my snark, but when it comes to Dylan it's just really hard. I feel bad for Ben because he has the worst taste and doesn't see her psychotic jealousy as the red flag that it is. "Do I kiss you better than Amy and Adrian?" Oy.
Then they woke up Amy and Ricky, which was actually pretty funny. Amy has been such a grump lately, as you all know, and Ricky saying they haven't set a date because he won't stop trying to sex her up just cracked me up. Even though she was pissed at first, it obviously made her laugh a little since Ricky and Amy ended up both talking and having sex. Another humorous but seriously awkward part of the conversation was when Ricky let it slip that Ben and Amy once tried to get married.
Elsewhere, Grace was still pouting over Jacob. Kathleen realized she wanted out of her marriage. Last but certainly not least, Adrian was upset about signing her divorce papers. Overall, it was definitely an emotionally explorative episode. 
What did you all think? Hit the comments!