Simply put, this Two and a Half Men season has been tepid. During some installments, it has been flaming hot, but, for the most part, it has been Alaska cold.
This kind of change is understandable, seeing as there was a new inhabitant in the Malibu beach house and some adjustments necessary for Ashton Kutcher in the role of Walden. But we're looking forward to the fall and a fresh start, hopefully, for all the characters.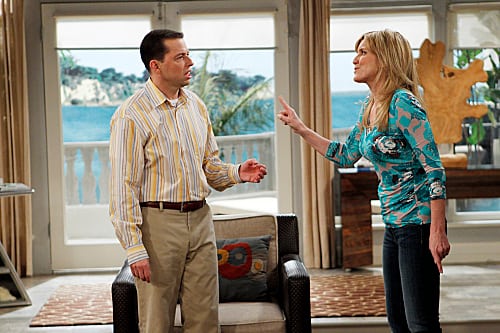 Fortunately, "Oh Look, Al-Qaeda" gives us hope. it was one of the best episodes of the season. For one, it was a Jake-centric half hour. And, with Eldridge backing him up, the installment was simply superb.
Jake Harper has grown up, but he is not yet mature. He does not have an idea of what he is going to do after graduation, and boy, how many of us have been in that situation?
In terms of cliffhangers and plot development, other than Jake joining the Army, the show did not offer much tonight, only the fear for Jake and our country, seeing as he wants to be in charge of drones. Will we get to see Jake in full military regalia come fall? For the sake of our country - and Alan - let's hope not.
Overall, this season has not been the best, but seeing as the show is renewed for at least one one, we can at least wonder whether it can ever return to Charlie-based form. Will you be watching in September? What did you think of tonight's episode? Sound off below, and don't forget to visit our Two and a Half Men quotes page.
Until September, TV Fanatics. Go and be all you can be.