The second episode of Longmire wasn't exactly subtle.
A week after viewers met this Wyoming-based sheriff, learning about the death of his wife and the repercussions felt by all around him, Walt walked "The Dark Road" on an installment that centered around the bonds of family, specifically the relationship between fathers and daughters.
Oh, and Katee Sackhoff sort of stripped. Fans of Battlestar Galactica can now die in prace.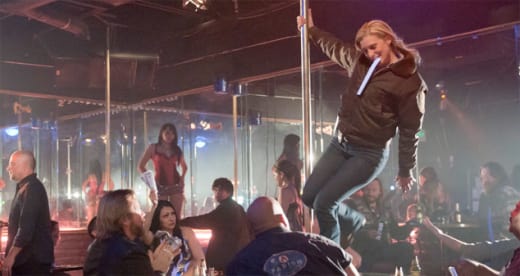 The hour played out like more of a procedural than I'd prefer. Following the Longmire series premiere, I (unfairly) compared the series to Justified and I'm about to do so again:
It took that FX hit nearly a full season to strike the right balance between weekly cases and over-arching, season-long mythology. A series does not have to combine these two elements, of course, but it does to keep my interest intact. I'm just not much of a procedural fan.
So I found it a bit of a bore to watch Walt go from location to location, getting to the bottom of the Mennonite stripper's death like almost any cop on any version of Law & Order or CSI. Granted, Longmire still takes its time, still uses some gorgeous exterior shots and is still clearly more about the sheriff at its center - who can apparently speak German and instantly notice that a lock has been changed - than the actual results of his cases.
But I'd like more. It doesn't have to be much. Something about the race between Walt and Branch? New details emerging on how Walt's wife died? An extended look into his feud with the reservation? I'm sure we'll be treated to these going forward, but some teases in those directions would have helped hooked me in early on.
Here, instead, we were walloped over the head with Walt and Cady's relationship. It's obviously an important one for the show, but it didn't feel especially fresh. Father suspects daughter is dating someone. Daughter is hiding the fact that she's dating her dad's chief rival. Not exactly the most original material, but I'll reserve full judgment until we actually see how it plays out.
I do love Cassidy Freeman as Cady and Robert Taylor's understated performance does help bring out Walt's constant pain. In the wake of his wife's passing, Walt is now protective of anyone and everyone, dead or alive. There's Cady, of course, but he also scoffed at Vic's creative information gathering and was sure to afford the victim as much respect as possible.
Overall, not a bad episode by any means - I enjoyed the peek into the Mennonite community - but Longmire is yet to really grip me and pull me in. What did everyone else think?
Matt Richenthal is the Editor in Chief of TV Fanatic. Follow him on Twitter and on Google+.