Necessary Roughness roared back for season two with Dani and Matt getting sneaky, Nico being outed and T.K going zen in all his naked glory. Now how can you go wrong with that?
"Shrink or Swim" picked up right where the season finale left off with T.K. being shot. The hospital montage and the six-week jump worked in keeping the audience feeling as though we hadn't missed any of the story, yet still moved it along.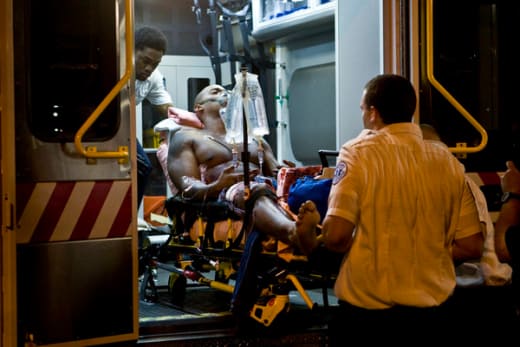 Then we found Matt waking up in Dani's bed. These two are even cuter together now than they were in the first season but as hot as sneaking around might be, I can't imagine it will be long before this duo is busted.
Heck, Nico already knows what's going on. Of course he has always been extra observant. He's also always been my favorite and I was pleased to see that despite the Pittman debacle his main focus was on finding Juliette. Nico will always be there to rescue Juliette no matter what Marshall Pitman says.
Unfortunately, now that Pitman knows that Nico had an affair with his wife, will Nico still have a job looking out for anyone?
Dani's dealing with both old and new issues this season and was definitely having a bad day, as she told Matt in this Necessary Roughness quote:
 I almost killed a tutor, an IRS agent and my son all in the same day. | permalink
It was no surprise that her sleazy ex dragged her down into his IRS issues but I don't think causing near death by biscotti helped her case any. 
I completely understood why she didn't want to tell Matt about her problems. There's nothing like starting off a new relationship by sharing you're tens of thousands of dollars in debt but Matt didn't flinch. Perhaps these two have more staying power than I first believed.
The story of Ray Jay and the tutor really disappointed me. Last season made it clear that Ray Jay takes after his philandering father so at first I was thrilled how quickly Olivia put him in his place.
Did you really think you were going to bag me like some dumb ass cheerleader? | permalink
The girl came off smart, blunt and direct. Unfortunately it didn't last long. By episode's end not only had she fallen for Ray Jay's supposed charms but also into his bed.
I get that they're setting up a story arc of Dani trying to maintain control over her kids as they grow up but couldn't they have waited an episode or two to have him sleep with Olivia? My satisfaction at watching her tell him off so forcefully was completely diminished when it all meant nothing in the end.
Now on to T.K... or should I say King Terrence. The master of zen with his sword cane and his squirrel translator was in rare form. He might look like the same T.K. with three hot chicks in his hot tub but don't let that cute naked ass fool you. This man is headed for a fall.
Thank goodness Nico had his back at that fan event and was able to avert complete disaster, but with Pittman back, it doesn't look like things for T.K. are destined to get any easier.
And that's lousy for him but great for viewers. Headed into last season's finale I was beginning to wonder where this show was headed and how far it could go. But with T.K.'s shooting and long recovery and the Pitmans going from princes to paupers I see an entire season of a whole new wonderful kind of crazy for Dr Dani to deal with. Bring it on.
C. Orlando is a TV Fanatic Staff Writer. Follow her on Twitter.