Following the developments on the New Girl season finale, Max Greenfield's Schmidt is single and, we're very sorry Cece, clearly ready to mingle.
The character has made that obvious in a trio of letters penned to three lovely women of television, all posted on the official Variety website.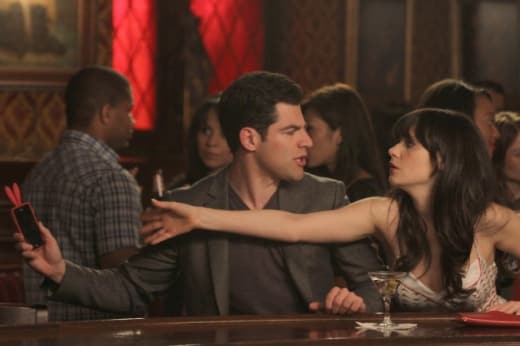 First, Schmidt courts Carrie Matheson of Homeland, writing to Claire Danes' slightly insane CIA operative:
You cray cray, and I like. If you're bi-polar, does that mean you're bi-curious? Because, lucky you, I'm try-curious. You can take me to that crazy cabin in the woods, tack stuff to that wall, turn on some creepy jazz...I don't care if you sneak into my house and put cameras up in all my business. Lithium? Lithi-yum.
From there, it's on to the Mother of Dragons herself, Daenerys Targaryen. Will this Game of Thrones cutie go drop her diaper for the occasionally douchey roommate?
Oh no girl. You a dragon queen! You have everything I want in a woman -- you're smart, you wear diapers, and you kind of look like Orlando Bloom in Lord of the Rings… If I get you pregnant with dragon eggs, how do you feel about us raising them Jewish? They can eat raw horse hearts as long as they celebrate Purim. (Smiley face!)
Schmidt's final target is an unexpected one: the cook on Downton Abbey.
I know all the other ladies are getting all the attention, but I like your style. You've got those big cook hands that you know I like. Keep doing your thing. I'll go upstairs or downstairs, you know I will...
So there you have it. The three women of Schmidt's dreams. With whom would he make the best couple?
Matt Richenthal is the Editor in Chief of TV Fanatic. Follow him on Twitter and on Google+.