Rookie Blue fans have never been able to get enough of Ben Bass. And now that his character of Sam Swarek has finally sealed the deal with fellow cop Andy McNally, those same fans just want more.
I got to speak with Bass about how Sam has changed, what fans might be frustrated with when it comes to this new couple and even his thoughts on Canadian hockey.
-------------------------------------------
This Thursday's episode, "A Good Shoot," deals with some difficult subject matter. Have you ever found a storyline on the show particularly challenging to play?
I did find the season two finale challenging. What was nice about it was that we sort of ventured out of the usual territory of trying to wrap up a story in one episode. They spread out the undercover story over three episode which I enjoyed. The more challenging it is often the more enjoyable it is. The scenes with the character of Jamie Brennan the guy who kidnaps me were very difficult. Just to do the background for it and create a back story and the actual shooting of it was very challenging. Those were my favorite episodes to do and also the most challenging.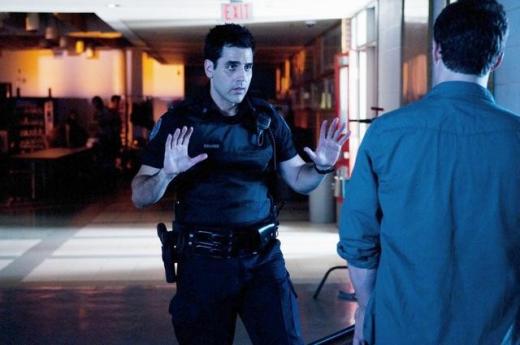 How do you believe Sam has changed since season one?
I think getting kidnapped by Jamie has affected him and his priorities in life. For me that plays out in the third season and the decisions that he makes with his relationships and putting Andy first.  He said it in the beginning of this season when he says to Andy, 'All you wanted was to keep being a cop and all I wanted was you.'
There were so many obstacles in the way leading up (to them getting together) in the end of [Rookie Blue Season 2]. Then finally it needed to happen for both of them and then all Hell breaks loose. My point is that that was something that was developing for him and then getting abducted and almost killed, it influenced his priorities. I think Sam is very happy to be in a stable relationship and in uniform and doing the regular thing with the woman that he's in love with.
Speaking of Sam and Andy, fans were thrilled to see them finally get together last season. Do you think they will be equally happy with the Sam and Andy story arc this year?
Well, I think they're going to be happy with certain things and frustrated with other things.  By frustrated I mean in a good way. I think they'll be surprised and I think…well they're going to be upset, frankly, but not in a bad way. It's just not going to be smooth sailing.  That would be boring anyway.  The writers have found ways to keep up the dramatic tension and have things get really complicated later. 

Sam occasionally makes comments that get fans wondering about his past. Will we learn more about Sam's history this season?
"There's a little bit but... they don't delve too much into it. There are a few things that are revealed but they've held off on that front. They like to create a sense of mystery and that gives us something to explore later on. With all the things they have going on in the third season, they've saved delving into that for later."

Now that it's been three seasons, what is it like to work with Missy and the gang at the 15th?
What's great about it is that you get to know each other's rhythms so well. It's like working with close friends. We have a good understanding of how the other works and its supportive and fun. It's not just with Missy it's with everybody who's there. It's a tight knit group. You get spoiled. You usually don't get those kind of connections with people and those kinds of working relationships. There's sort of a family feeling and that extends to the crew as well.  I think it really helps to know each other and believe in each other's work.  I think it helps the acting in that there's a lot to draw on. It's fun and the more you know somebody it really does help the chemistry of the characters on the show."

Your Canadian fans wanted me to ask a very important question. Who is your favorite hockey team?

(Laughs) It's a toss up between Vancouver, Toronto, Montreal, Edmonton, and Winnipeg. (More laughs)
C. Orlando is a TV Fanatic Staff Writer. Follow her on Twitter.