Wilfred is one of the best shows on television, and the second season premiere proved that once again. It is an absolutely hilarious comedy that mixes in intense dramatic and suspenseful moments with a great long-running mysterious plot that makes the viewer question every single thing that is happening on screen.
"Progress" was a magnificent return for Wilfred, as the 21 minutes really felt like the climax of a major motion picture, with all of cutting back and forth between dream and reality. A ton of credit should go to Randall Einhorn who did a great job directing, causing me to constantly wonder what was real and what wasn't.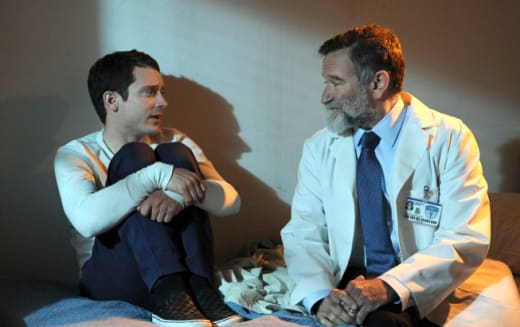 Not only was the main theme of dream vs. reality responsible for some unbelievably dramatic moments - like Ryan getting taken in for electric shock therapy or the getaway scene in which he finally realized the meeting was actually real life - but it also created some of the funniest scenes I've witnessed in a while.
As the hospital moments began getting stranger and stranger, with the lightning making Robin Williams' face even more creepy and the flickering of the lights every second, you had to know something big was coming.
Dr. Eddy told him that it wasn't his fault, which Ryan recognized from Good Will Hunting (a perfect callback to Wilfred's love of Matt Damon movies). Now that could have been the end of the bit, but no, Wilfred took things to the next level. Having Ryan call the doctor out for ACTUALLY BEING Robin Williams had me rolling around on the ground.
As if I wasn't out of breath enough after that, the actual getaway with who you might have thought was Kevin Malone at first might have been even more hilarious. Simply the inflection in Wilfred's "Woo hoo, I'm back baby!" had med smiling from ear to ear.
The laughter didn't stop, though, because it was soon revealed that Bear was driving the car and the two had "hot-china'd" the car (another fantastic call back, this time to Wilfred's mix up of "china" and "wires" earlier in the episode).  When Ryan gets so caught up in the moment that he screams at Bear to watch out, I absolutely lost it. You can't beat this stuff.
Like we saw so much throughout Wilfred Season 1, Wilfred had a number of funny moments of his own: telling Ryan he didn't need to be waited on and immediately handing him a poop bag, not being able to contain himself at the thought of catching the frisbee or the entirety of the My Morning Jacket concert conversation all come to mind.
The fact that so much of the hilarity in this episode wasn't driven by Jason Gann's sheer comedic brilliance is a great sign. If the show Wilfred can catch up to how great the character of Wilfred is on a consistent basis, this could be a damn great season.
At the end of "Progress" both Ryan and the audience are still left confused. We now know that the meetings were real life, and everything at the hospital was a dream, but what else is real? What else is imaginary? Why was the basement boarded up? Who did it? And for how long has it been like that?
I can't wait to watch more of these characters interacting with one another, no matter how much the aforementioned questions get answered.  It should be a great ride in season two.  Go ahead and relive some of the events of the premiere in our Wilfred quotes section, and then let us know what you thought of the episode in the comments!
Dan Forcella is a TV Fanatic Staff Writer. Follow him on Twitter.