"Battle Scars" was one of those Army Wives episodes where we got to see glimpses into the lives of all of our leading ladies, but very little interaction between them.
A lot of times this bring the story to a grinding halt, yet I found the characters and their issues to be interesting enough to hold their own. Let's take a look.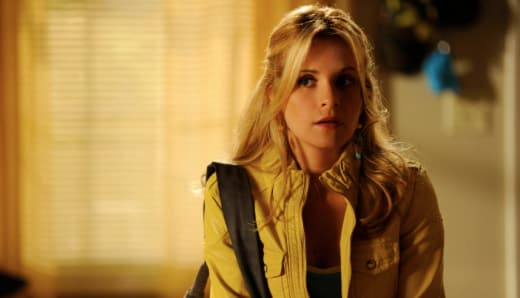 Charlie and Nicole: It's been a while since we've seen much of Charlie and most especially Nicole. Their lives have been moving forward, however, as Nicole prepared to receive her Bronze Star for valor. The honor brought to the surface a personal problem she had been unable to face and one Charlie found most ironic, as you can see by the Army Wives quote below:
How is it you're getting a medal for valor but you can't find the courage to tell your mother we're getting married? | permalink
That's right, Kellie Martin's Nicole brought along her long lost mother from Life Goes On, Patti LuPone. But despite her courage on the battlefield, she was scared to death to tell her mother that she was in love with Charlie. Notwithstanding her initial anger and surprise, by the time Nicole received the Bronze Star, mother and the happy couple were posing happily for pictures. Score one for Hollywood!
Kevin and Frank: We lucky viewers will be rid of Kevin for a while. Maybe I'm the only one, but I like Jackie Clark now and she's just a better character when her husband isn't around. While there relationship has mended, I still find him to be unsavory. Frank felt likewise when his brigade was not chosen to deploy. His thoughts were that Kevin was using what happened in Africa as a reason not work with him, and after some probing, Jackie discovered he was right.
The White House was behind it, but Kevin didn't stand up for his long time friend. I wonder how long Kevin and the two unknown brigades will be patrolling the border of Pakistan?
Claudia Joy was practicing law again, sorta: I really enjoyed seeing Claudia Joy help the veteran, Bernie, when the VA declared him dead. It's something they rarely talk about on Army Wives because so much of the show deals with active duty soldiers. Remembering the soldiers that have come before and the trials they can face in the hands of a giant government system was worth telling.
Bernie was so cute with all of the little extra stops he needed her to make, and it was great to see how much enjoyment she was getting in making them with him. I'd like to see more of that in the future. Maybe that could be the basis for her law practice.
Gloria and Hector: Was anyone else as miffed as I was that Hector only seemed to want to go to marriage counseling because Trevor demanded it? I don't know why I can't believe anything that he says, but he seems completely untrustworthy to me. When faced with an Article 15, lower rank and less pay, he suddenly thinks his marriage is worth fighting for. How lovely.   
It was horrible the way Gloria reacted to Cody when she visited Roxy, but their conversation later about marriage and love was great. I just wish it had given Cody a reason to stick around. I liked him, even though he yelled at Lucky and it made me want to cry.
It still seems that the best option for Hector and Gloria is divorce and for Gloria to find another worthy soldier. Although she had no idea what she was getting into as an Army wife, she apppears to have taken to it quite well. Too bad the same can't be said for Hector and the Army.
Overall it was an interesting to see how life just goes on. There wasn't any real drama or life or death situations this week, just some days in the life of the Army Wives. It was good to have a breather before the next storm hits!
Carissa Pavlica is the managing editor and a staff writer and critic for TV Fanatic. She's a member of the Critic's Choice Association, enjoys mentoring writers, conversing with cats, and passionately discussing the nuances of television and film with anyone who will listen. Follow her on Twitter and email her here at TV Fanatic.