The Ash may have locked up Lauren for four days, but she was rewarded for the imprisonment.
Over those days, Lachlan investigated the cursing nail, which is what she asked for in the first place and the result was her greatest wish: Nadia woke up.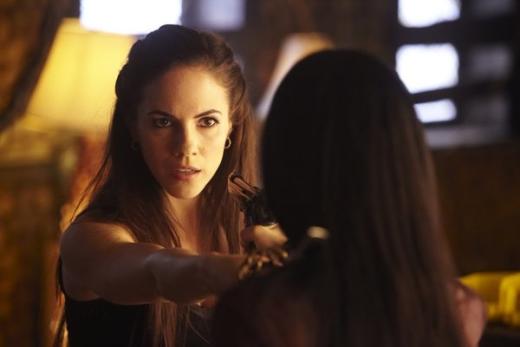 The story of Nadia's illness and ultimately her curse was much more involved that I expected. Compared to Lachlan, the former Ash seemed to be a decent leader, so his manipulation of the situation was unexpected.
It was cruel to purposefully put Nadia in a coma in order to force Lauren into servitude. The former Ash's plan worked as Lauren found the cure for the Fae virus and then for some reason he decided to continue to use her for research. Now, that Lauren has re-committed to Lachlan, I fear something will happen to Nadia. Will their love continue where it left off or will Nadia tire of living under the Fae control with Lauren. I don't see any way they can have a fairy tale ending.
Besides, there is Bo. She risked her life to save Nadia. When Lachlan first mentioned that he wanted Bo to go to the Congo, I wondered how they would be able to resolve that within"Masks." The journey to Africa itself would take days. The Fae travel agency was an ingenious solution. Plus, the travel agent provided a little comic relief in an otherwise serious episode
At some point, Lauren and Bo have to have a heart-to-heart about what happened and Lauren will acknowledge her true feelings for Bo. Though, I'm more concerned about what Bo is going to do when she finds out about Lachlan's treatment of Lauren. She's not going to be happy.
Bo isn't happy anyway, is she? She's lost Dyson and now Lauren. At the party, even the gifts from her friends made her feel alone. Weapons and more weapons, so impersonal for those closest to her. Trick's gift of his wife's bracelet to help out Lauren was much more personal. After all Bo has been through in her life, she finally thought she had found a new family, but that is shifting. While she was their center of attention, they are each finding companionship elsewhere.
Bo is in a vulnerable emotional place right now. That makes the appearance of the mystery man all the more worrisome. Who sent the bracelet? And, what does the engraving say? The immediate future looks dark for Bo, her friends, and the Fae.
Carla Day is a staff writer for TV Fanatic. Follow her on Twitter and on Google+.