How are you supposed to react when a long lost parent shows back up in your life? When Claire McNally made her first appearance in last week's Rookie Blue I completely understood Andy's anger and sarcastic responses.
But in "Coming Home" she seemed to have done a complete 180 and it was a little jarring to watch. Probably even more so for Sam.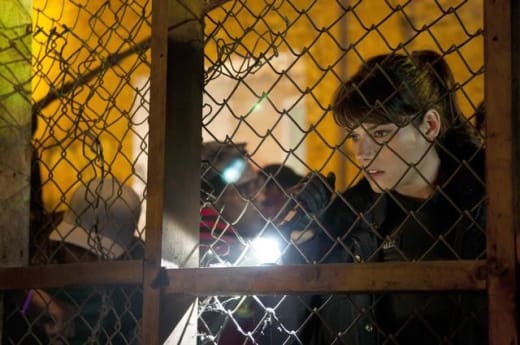 I wasn't a big fan of Claire's to begin with but I liked her even less when she interrupted the food fight between Sam and Andy. That had the potential to be an epic battle and Sam looked ridiculously cute covered in flour. I couldn't wait to see where that scene went next... and then Claire showed up and ended the fun before it had barely begun.
As disappointing as that was, Andy offering her mother her spare key was downright disorienting. As Sam pointed out, the woman has only been back in Andy's life for four short weeks after a 15-year absence. It felt like Andy was putting an awful lot of trust into the hands of a virtual stranger.
Why Claire left and why she's back now are important questions and it felt as though Andy was too scared to really look for those answers.
I understood why Andy was furious with Sam for doing a background check on Claire. He went behind her back, but in part I thought he was just being a good boyfriend. He's being protective and that's not a bad thing because I think sooner or later, Andy's heart is going to get crushed when Claire bounces out of her life again.
Speaking of getting crushed, Oliver can't seem to catch a break these days. His wife was barely speaking to him. He's living in a motel and his daughter was running around with drug dealers.
I wasn't surprised he held the gun to TK's head. Even the sanest person goes a little crazy when somebody hurts their kid. I was also certain that Sam would have his back, no matter what. Would Andy? Thankfully we never had to find out.
The most heartbreaking scene was Oliver and Izzy in the patrol car as he dropped her back off at home. The pain and regret came off of him in waves. There were no easy answers here. Just a broken family trying to hold it together.
Despite Traci letting him off the hook at the end I really thought Jerry was a bit of a jerk. Yes, Traci's a detective in training and of course he gets to treat her as such but more often than not he seemed to completely disregard her input. 
I would understand if she got that treatment from some senior detective she didn't know but Jerry should give her more credit than that and treat her as something more than his coffee fetch. In the case of the teenage witness, he didn't use Traci until he had absolutely no other choice and that's pretty disheartening.
I didn't even know what to think of Dov and Crystal. They are two people in a world of pain and I'm not sure if their strange budding friendship will make that better or worse. 
So is Andy trusting her mother too soon or is Sam being too overprotective? Was I the only one disappointed by the interrupted food fight? Am I wrong about Jerry and Traci? Tell me your thoughts on the latest Rookie Blue.
C. Orlando is a TV Fanatic Staff Writer. Follow her on Twitter.