Sons of Anarchy closed down the television side of things at Comic-Con today, revving its engines for a panel discussion inside Hall H that included scoop on Gemma and Tara's relationship, Jax as SAMCRO President and the promise of many bare male backsides.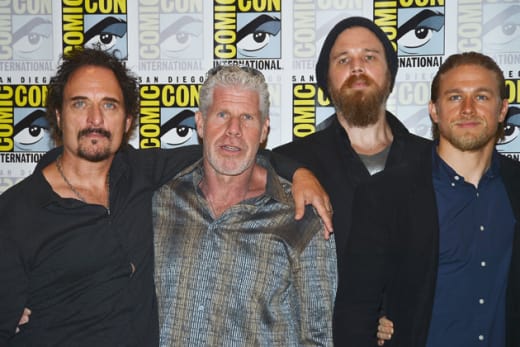 "For me, this is really the season of Jax at the head of the table and what kind of leader he will become," teased creator Kurt Sutter. "Can you be the leader without become Clay? And can you avoid becoming Clay without being viewed as weak?"
Other tidbits, spoilers and fun facts revealed:
A sneak peek depicted Tara in a bathtub, gun at her side; Clay living alone and sucking down Oxygen, Piney-style; the club being run off the side of the road by a truck, leading to a highway-set shootout.
Sutter on the evolving relationship between Tara and Gemma: "It's really the push and pull of mother-daughter relationships. It's not a linear arc this season for them in terms of that struggle. It really changes episode to episode."
Kim Coates on the state of Tig: "[He's] really off the leash. He's totally a wild card now and the way Kurt has set it up for this character, it's really, really intense."
After joking (or not?) to Charlie Hunnam about not getting "too comfortable" in that President's seat, Ron Perlman said of Clay: "[He] only knows one way, and that is to be on top. He takes a back seat to no one… So, we see him in the beginning of Season 5 and every single thing that he's worked for in his life has been taken away from him - except his life."
Jimmy Smits' Nero will have sex with Gemma.
Opie will be back... and featured prominently on episode two.
Sons of Anarchy Season 5 will premiere on September 11.
Return later this week for TV Fanatic's exclusive video interviews with every SOA cast member in attendance, and find out why Hunnam is so angry about the leaked photo of himself and guest star Ashley Tisdale!
Matt Richenthal is the Editor in Chief of TV Fanatic. Follow him on Twitter and on Google+.