Steven Tyler made it official today: he will not be returning to the judging table for American Idol Season 12.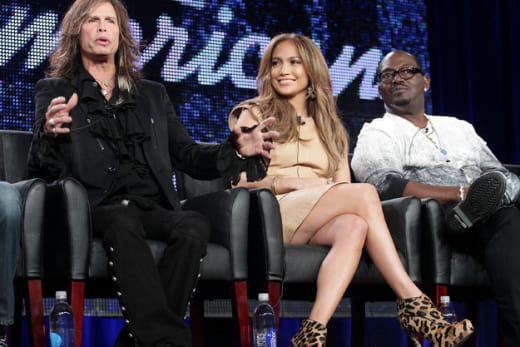 "After some long...hard...thoughts…I've decided it's time for me to let go of my mistress 'American Idol' before she boils my rabbit," said Tyler in a statement.
"I strayed from my first love, AEROSMITH, and I'm back – but instead of begging on my hands and knees, I've got two fists in the air and I'm kicking the door open with my band. The next few years are going to be dedicated to kicking some serious ass – the ultimate in auditory takeover…
"On Nov. 6, we are unleashing our new album, Music from Another Dimension on the Earth, Moon, Mars, and way beyond the stars…IDOL was over-the-top fun, and I loved every minute of it…Now it's time to bring Rock Back. ERMAHGERD."
Jennifer Lopez has also hinted that she may be done with the series, while rumors of Adan Lambert coming on board are growing strong.
Will you miss Tyler as an American Idol judge?
Matt Richenthal is the Editor in Chief of TV Fanatic. Follow him on Twitter and on Google+.