Supernatural is about to go on the offensive.
So teased showrunner Jeremy Carver just a few hours ago at the show's Comic-Con panel discussion, as cast and crew members offered up a bit of Supernatural Season 8 insight, starting with Carver's general tease:
Sam and Dean are "starting the season on the offense. They really want something. It ties in very deeply with the mythology [and is] something very near and dear to their hearts. They are very much united."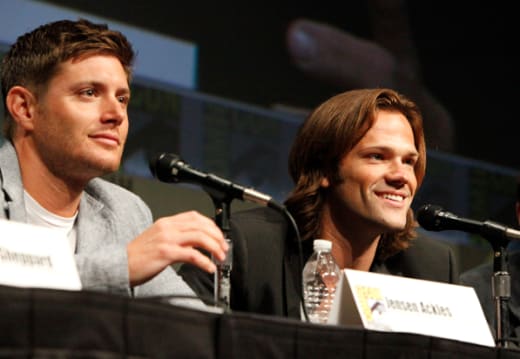 Among other tidbits shared and teased:
Yes, Sam will be getting a love interest, but Dean? "I think the only real romance in Dean's life is the car," joked Jensen Ackles.
When we see the boys again, they will have spent "more than a summer" apart," previewed Carver, adding: "The relationships that they made and their time off from each other will be very important in each of their lives, and they will have to come to terms with the new relationship in each of their lives."
Mark Sheppard will be back as Crowley. In what capacity? Said the actor: "We're kind of chasing after the same thing, so it could be a problem."
Misha Collins remained mum on when Castiel may appear again.
Will we ever meet God? "We will pull back from the heavy heavy mythology and give the brothers to [breathe]," said Carver, adding that Season 8 will featured "one over-arching mythology that will hopefully carry on for many, many more years."
Matt Richenthal is the Editor in Chief of TV Fanatic. Follow him on Twitter and on Google+.