Hold onto your pig's guts - because this week's episode of Hell on Wheels was not for the squeamish.
If you haven't noticed by now, this show is filled with the squelching of shoes through the mud, the spewing blood of fallen men and the continued animosity and confrontation of this so-called melting pot. It's a mess of muck, mud and death. Sounds like the perfect vacation spot, no?
Frankly, there seems to be a lot of pent up male aggression and I'm starting to wonder if the town should bring back some good old fashioned organized fight clubs. At least this way, no one would have to be worried about getting stabbed, shot, hanged or a variety of unique ways to die that everyone seems to spend their time coming up with.
"Slaughterhouse" was a pretty action packed episode and proved that the season is getting better with each week.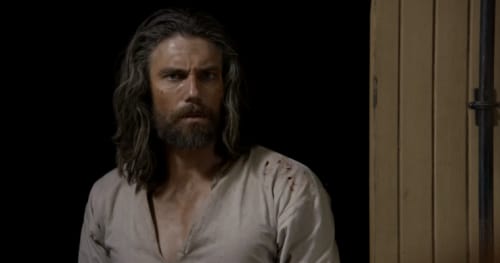 There are still certain aspects that make me laugh when I'm not meant to, such as any time the Reverend's daughter talks. Or even Eva feeling passionate love because "no one's ever gutted a man for me before." A true romantic.
But the lawlessness of the land continues to prove intriguing, as the lines of friendship and alliances are as quickly crossed out as they are made.
The Bohannon/Ferguson relationship is not the same "helping hand" that it necessarily used to be. Is that because Ferguson has been assigned to watch Bohannon? Is it because he wishes he was given Bohannon's job? Maybe because he's depressed he can't be with Eva?
Either way, he's made no mistake that he's not buddies with Bohannon.
But the man who truly hates Bohannon is none other than the fantastically acted Swede. His whisperings of revenge and taking up arms to a good majority of the men in the area are simply the seeds of destruction. Even if he's been relegated to the background, doesn't mean that he can't still have a major impact.
Which makes it all the more fun when Bohannon confronts the Swede, who, of course, feigns a level of innocence to everything. But what's even greater is the fact the Swede has a way of truly reading people, and their electrifying conversation about who they are as men was captivating. That, and Bohannon dropping the Swede's gun in the bath, was a sweet icing on the cake.
It's a good thing that Christopher Heyerdahl was made a series regular because he adds such a chilling punch to the show and plays perfectly off the other characters with whom he interacts.
If anything he certainly helps the lack of law and order. Sure, Durant is in charge, but only because he pays the money. Bohannon and Ferguson can stop certain arguments, but it doesn't eliminate the problems of everyone's grumblings and hatred for certain people.
And the good old boys, Mickey and Sean McGinnes, well, they too have an extremely dark and bloody side.
A mesmerizing sequence that certainly echoed the opening, the McGinnes brothers took to their attacker, the Butcher, like violently savage men. Not only was the scene bloody with their repetitive hammering, but essentially cutting the Butcher up and feeding him to the pigs?
Wow. Just wow.
The Irish brothers are not just whimsical entrepreneurs, are they?
With such an outstandingly jaw dropping ending, I can only imagine what's in store for the rest of Hell on Wheels Season 2. It's clear that anyone, literally anyone, is willing to do whatever it takes to stay alive and continue playing in the game of the railroad bushiness. The gritty tone of the show continues to wallow further deeper forcing everyone involved to play on the dark path being forged before them.
And I most certainly won't be able to look at Babe the same way again.
Sean McKenna was a TV Fanatic Staff Writer. He retired in May of 2017. Follow him on Twitter.