Hell on Wheels steamrolled its way into season two tonight with an an entertaining hour of train robberies, changed fortunes (or misfortunes, depending how you look at it) and the ever-toiling grimy work on the transcontinental railroad.
Oh, and Cullen Bohannon's mane of hair is bigger and more bad ass than ever.
I've missed the Western style drama of the freshman season, and frankly, you'd be hard pressed to find a similar show on television. "Viva La Mexico" filled that void perfectly and picked right up pretty much where the Season 1 finale left off.
Everyone is back - from the crazy, drunken Reverend to the opportunist McGinnes brothers to the creepy Swede. The setting is as filthy and muddy as ever, but there's an added feeling of cold with faded hues that make the locations more drab and dirty. Everything feels like it's more or less a continuation of the first season with a little extra spice.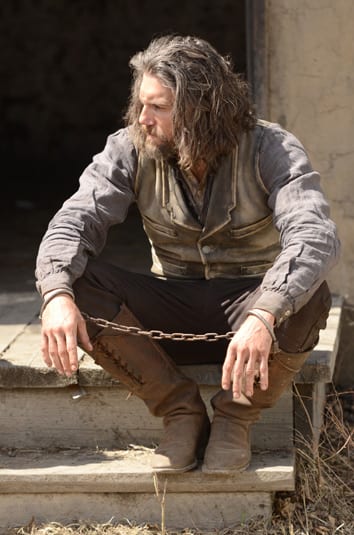 Which works in its own right, especially for a premiere, in setting up where the season looks to head for everyone involved. The ground work has certainly been laid, but there's still a fear that the show will spread itself too thin in trying to make every character's story pertinent.
The Swede, played by Christopher Heyerdahl, has fallen very far since we first set eyes on the clean cut domineering force. He's been stuck cleaning up bodies and clamoring for a chance to get some form of his old life back. There's still a hatred for Bohannon, and while he's more docile and quiet spoken, I'm looking forward to the Swede bursting and squaring off with his nemesis all over again.
Of course, Anson Mount brings back that cool, matter-of-fact, bare knuckle fighting Cullen Bohannon in all his awesome gun totting swagger. He gives off a fantastic presence as a lead and watching Mount rob trains and wait for his execution always leaves you wanting more, whether he's brawling or just sitting solemnly. Bohannon is still haunted by his past, but for now it seems he's looking for a new start in Mexico. But we all know when he gets a lead, he'll be right back on the hunt for his family's murderer.
There's interesting potential with Mickey and Sean McGinnes and I'm curious as to what happened in Boston with these two brothers, but the show is still at its best when Bohannon is on the scene.
If anything, I really hope that in addition to fleshing out the surrounding characters, a more streamlined and focused larger plot connects all the episodes.
But even with all my hopes and wishes for the new season, the episode moved along with a great pace and kept in line with exactly what the drama offered the first time around.
It's pretty safe to say that if you enjoyed that first season, you'll equally enjoy this one as well. Not much has changed, although there is a feeling that things could get darker for everyone, but a lot of what made the series enjoyable in the first place rings true.
Sure, maybe it wasn't a jaw dropping premiere or switched things up in a wild way, but it was engaging nonetheless and started off with plenty of promise, potential and pure Western fun. Let's keep on searching, keep on fighting and keep on raising hell. With a promise like that, I'm willing to get on board and ride that train.
What did you think? Did you enjoy the episode? Did you hate it? Sound off about the season two premiere below.
Sean McKenna was a TV Fanatic Staff Writer. He retired in May of 2017. Follow him on Twitter.