Tonight Rookie Blue walked us through the aftermath of Jerry's death, and although some fans were furious that the show killed off a beloved original character, I honestly can't complain. Not when it's followed up with what I consider to be the very best episode of the show's three seasons.
"Cold Comforts" struck the perfect balance between heartbreak and humor, as everyone remembered their friend and they struggled just to make it through the day.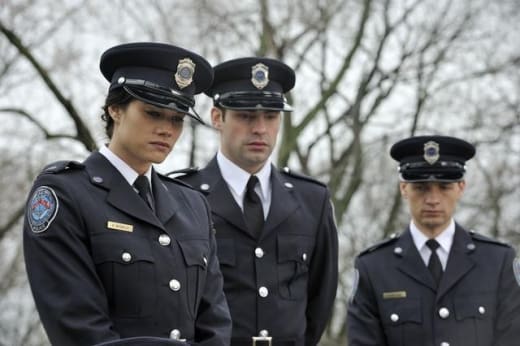 As Oliver said in this Rookie Blue quote…
Tomorrow we're going to wake up and the world's going to expect it to be like any other day. | permalink
But everything had changed and everyone dealt with the loss in his/her own way.
Starting with Traci. Enuka Okuma gave a wonderfully understated performance as she held back tears for most of the day. Yet the quiet torture of every breath and every step she took - knowing that her fiance would never come home - was heart breaking.
Oliver was once again a standout, swinging from overwhelming sadness to humor and back again, remembering his dear friend. The moments at the Black Penny between him and Noelle couldn't have been better. On one hand, Oliver was saving Jerry's seat and his Scotch and admitting that he never got to tell Jerry what a good man and a good cop he thought he was. On the other, he was joking with Noelle about her newborn and asking about breastfeeding while telling her:
I love you, Noelle, I just don't want to see your boobs. | permalink
Gail was so traumatized she could barely leave her hospital room. It was great to see Nick trying to help her. It drove home that he really does care for Gail, but he was ill equipped to deal with her guilt over Jerry's death.
The only person who could help her through that was Traci and it proved to be one of the most remarkably touching scenes of the series.  Gail couldn't meet Traci's eyes as she confessed on a quiet sob:
Now every time you look at me you are going to be reminded of why your fiance died. | permalink
Traci's response spoke of her character's fortitude in the face of such crushing grief.
I'm going to be reminded that his death meant something and that he died for something important. | permalink
And while Traci reading Jerry's wedding speech had me fighting tears, Sam's declaration to Andy was when I lost the battle.
You could see right from the funeral. Sam was distancing himself from Andy in every way possible, as though being in her presence was simply too painful.
Where everyone else joked or cried or lashed out, Sam internalized all of his grief and anger. And then it all came spilling out when he told Andy if he had only not listened to her his dear friend might still be alive.
Was the accusation fair? Of course not - but Sam's being swallowed up in his own despair. He's building a wall to protect himself and leaving Andy on the outside. The devastation in Andy's eyes as the love of her life walked away from her was what did me in.
There were so many outstanding moments in this episode that there's no way for me to list them all, but here are a few more things worth mentioning.
It seemed right that Chris and Dov bonded together to box up Jerry's things. It simply solidified an already stellar bromance.
Dale's mullet was amazing. Did he step out of a time machine from 1991?
Every time we get a scene with Oliver and Noelle together, I'm just left wanting more and more and more.
I want to know the baby's name?!?  Why are they torturing me?
Please tell me Sam and Andy will come back together by the finale.  If not it's going to be a long, tortuous wait for next summer.
Jerry is gone but Division 15 will continue. Nothing will ever be the same but I still can't say I regret this turn of events. It's made for some great TV.
C. Orlando is a TV Fanatic Staff Writer. Follow her on Twitter.