Saving Hope has been all over the place this season in terms of story-telling, character development and the balance between the medical and the supernatural elements. It is not a series that is a breakout or runaway hit. Some weeks are definitely better than others.
The aptly titled "A New Beginning" is the kind of episode that makes me think this show has a place on television. And there's one reason for that: Daniel Gillies.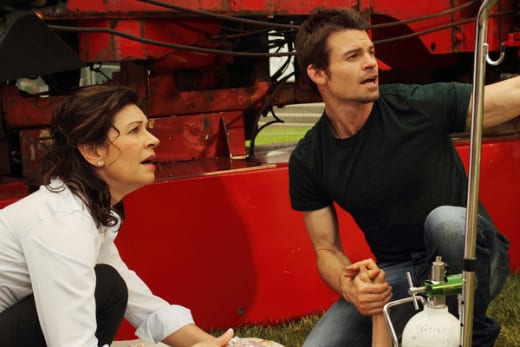 Joel Goran is the character I'm most compelled to watch, despite the uneven writing of his character this season. One minute he's supposed to be a womanizing jerk and the next he's attempting to be a cuddly boyfriend. He's almost always a concerned surgeon, but sometimes he believes he knows best. I can't quite ever figure him out all the way and I think I'm starting to like that about him.
Three episodes ago, he witnessed a patient's suicide and for the past two weeks we've seen him struggle with the emotional toll of that event. First, he dealt with the physical aftermath - his broken hand. Tonight, he dealt with the mental trauma. He asked for a leave of absence to deal with his issues and instead his boss took him on a road trip where he ended up back in the surgical saddle when he most certainly did not expect to be there. And let's not forget the adrenaline-fueled sex from their daring rescue.
In short, Joel's complicated. But all of that complication makes him feel very real.
Another awesome moment from tonight's was Charlie's admission that he doesn't want to wake up. We know his brain is healing itself, but he's still not awake. A therapist in the In-Between helped events from Charlie's past surface that shed light on why he may still be in his coma. Basically, he's afraid of being left alone, so the easy way for his subconcious to deal with his fears is to keep him in a coma. He can't be left by those he loves if he's the one who does the leaving.
He's scared. His parents died unexpectedly when he was young and he's dealt with those feelings of abandonment ever since. That sentiment is sad and real. (To see parts of Charlie's conversations with the therapist, check out the Saving Hope quotes page.)
Alex witnessed her fiance's car crash and subsequent coma and dealt with Charlie's ex-wife feeling him up and it took her three weeks just to cry. Tonight, she handed a patient a diagnosis of breast cancer with a smile on her face and a bounce in her step. It was odd, and I'm not even sure odd is a strong enough word for how wrong that felt.
There's positivity, and then there's positively weird, and almost everything about Alex and how she's dealt with the events of the past three months has been the latter.
Overall, tonight was a good week for Saving Hope. This show has a long way to go if it gets a second season, but there are little glimmers here and there of what a good show this could be and tonight was one of those glimmers.
What did you think of "A New Beginning?" Do you love Daniel Gillies as Joel as much as I do?
Miranda Wicker is a Staff Writer for TV Fanatic. Follow her on Twitter.