It was a big day for all Botwins on this week's episode of Weeds, "Unfreeze."
Shane graduated, while Nancy, Silas and Andy all kicked off new jobs. Despite these fresh starts, however, my reaction to the the installment was unfortunately stale: I'm unimpressed.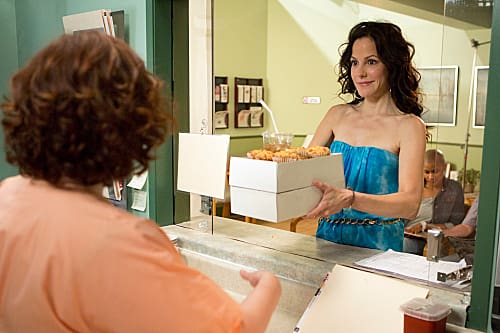 It's the same issue I've harped on for awhile now: there's no flow between episodes. There's no real tension, either.
Weeds just tosses in random individuals and lets its characters react to them. So now Silas and Nancy both have rivals at work... and Andy very easily found himself work... and Shane has some unknown new assignment... and Doug got nabbed trying to run a fake charity, the latest out-of-place storyline for a character I used to adore, and who now just feels like total filler on a weekly basis.
And dumb filler at that. It's one thing to run a scheme. But why would Doug ever have believed this one would work?
Almost as evidence that the show is out of ideas, Nancy landed her big account by sleeping with a doctor. It's the same way she got out of one of her very first drug-dealing dangers, along with pretty much every other difficult situation with which she's been faced. I'm not judging her as a person. I'm judging the writing as repetitive and unsurprising.
Truth be told, if this weren't the final season of Weeds, I'd check out with no regrets. I just can't think of a single storyline that has me excited.
How about you? Am I being too critical? Are you as into Weeds as ever? Or are you also just holding on for the finale, waiting to see how this journey comes to an end?
Matt Richenthal is the Editor in Chief of TV Fanatic. Follow him on Twitter and on Google+.